We are a highly complex industrial entity, focused on high value-added segments with high engineering content. The Group produces ships that are not standard vessels, but tailor-made products, created specifically to meet customer expectations.
We actively manage our make-or-buy procurement strategies for every single phase of development and implementation of the naval job. For the characteristics of the production process, we come into close contact with our suppliers, who during the shipbuilding phases often work in the same production facilities that host the ship's construction.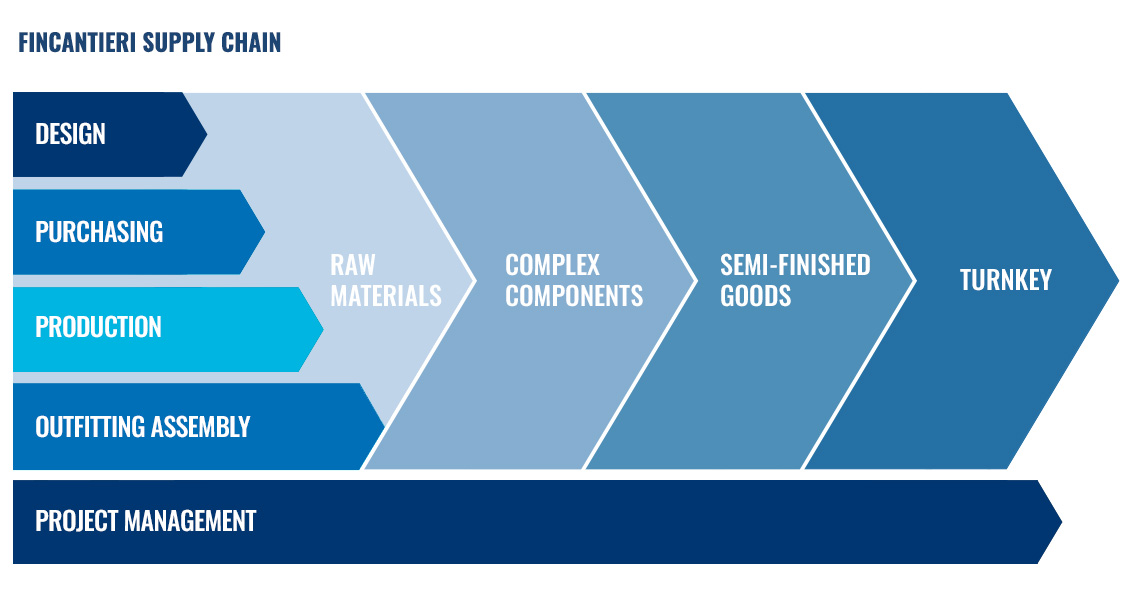 A significant portion of a ship, about 80%, is made with the contribution of suppliers. We operate as a system integrator, taking responsibility for the shipbuilding project as a whole. We take care of all the processes, from the design and engineering of the ship to the construction of the hull and the outfitting, coordinating a wide network of specialized suppliers and ensuring the integration of the key components within the platform.
SUPPLY CHAIN MANAGEMENT OF FINCANTIERI IN ITALY
Fincantieri S.p.A. monitors its own supply chain through a management process with a life cycle approach, aiming to minimize the environmental and social impact of a product or service along its life cycle. To this end, Fincantieri believes above all that close collaboration with its supply chain is essential to achieving high quality levels in the finished product and the entire production process.
The ultimate goal is therefore to establish long-term partnerships characterized by transparency and collaboration.
SUPPLIERS QUALIFICATION PROCESS
Management, maintenance and continuous improvement of a pool of trusted suppliers is essential in order to achieve the goals we have set for ourselves in economic and sustainability terms, for this reason we have developed a stringent qualification and performance monitoring process for strategic suppliers.
Of the 823 qualified strategic suppliers at the end of 2017, 82% were subject to an
evaluation, with the following results:

- 89% satisfactory;
- 10% with some independently recoverable gap;
- 1% with serious problems, improvement plan or replacement.
SUPPLIERS MONITORING PROCESS
Fincantieri ensures monitoring of performance that allows suppliers to maintain their qualified status and manages any critical issues.
The supper qualification and performance monitoring process is focusing increasing attention on aspects related to safety and protection at work both in the document collection phase and in the inspection phase at the supplier's premises. It evaluates elements such as the technical/professional suitability of the company under examination, the regularity of contributions and remuneration of employees, the existence of a structure dedicated to occupational safety, etc..
Fincantieri Marine Group: supply chain
The US Government is the main customer of Fincantieri Marine Marinette (FMM) and requires high quality, high performance goods and services provided by suppliers with proven experience. In order to fulfil the objectives of Congress, the company supports small and medium enterprises in selecting its suppliers, in particular those run by women, economically and socially disadvantaged individuals, veterans, and companies that are part of the Historically Underutilized Business Zone Program. (HUB zones).
In 2017, 1,105 suppliers received a purchase order from FMM, almost 100% of which are located in the United States, with almost 52% in Wisconsin and over 51% small businesses.
An orientation course is provided to suppliers performing services in shipyards before the works begin, to verify that they meet certain insurance requirements. They also carry out shipyard safety training courses and are familiarized with the correct contact representatives within the company, in order to ensure an appropriate communication flow.
SUPPLIERS BY PRODUCT CATEGORY
2017
PRODUCT CATEGORY
NO. OF SUPPLIERS
VALUE OF ORDERS ISSUED BY CATEGORY IN €
Supply
588
82.616.772
Procurement and services
378
41.884.472
Turnkey
36
27.892.039
Raw materials
92
14.098.003
Total
1.094
166.491.285
SUPPLIERS BY GEOGRAPHICAL AREA
2017
COUNTRY/GEOGRAPHICAL AREA
NO. OF SUPPLIERS
VALUE OF ORDERS ISSUED BY COUNTRY/AREA IN €
Italy
1

867

Rest of Europe
8

3.862.187

North America
1.084

162.554.274

Asia
0

0

Oceania
0

0

South America
1

73.957

Africa
0

0

Total
1.094

166.491.285
The data refer to Fincantieri Marine Group
VARD Group: supply chain
Approximately 78% of VARD Group suppliers are located in Norway and another 16% in the rest of Europe.
The selection criteria used are based on the maker list, but also on supply history and previous purchasing experiences.
The most used suppliers are attributable to companies in the VARD Group, representing 53% of the total value of 2017 purchase orders.
Purchasing management is entrusted to the Alesund headquarters, while purchase plans are managed by the procurement teams of the various sites.
SUPPLIERS BY PRODUCT CATEGORY
2017
PRODUCT CATEGORY
NO. OF SUPPLIERS
VALUE OF ORDERS ISSUED BY CATEGORY IN €
Supply
578
428.983.760
Procurement and services
58
289.549.817
Turnkey
383
191.811.294
Raw materials
32
7.603.520
Total
1.051
917.948.391
SUPPLIERS BY GEOGRAPHICAL AREA
2017
COUNTRY/GEOGRAPHICAL AREA
NO. OF SUPPLIERS
VALUE OF ORDERS ISSUED BY COUNTRY/AREA IN €
Italy
476

419.872.443

Rest of Europe
418

371.900.116

North America
1

668.386

Asia
99

60.739.296

Oceania
0

0

South America
57

64.768.151

Africa
0

0

Total
1.051

917.948.391
The data refers to the VARD Group