Code of conduct
FINCANTIERI is one of the largest, most diversified shipbuilding groups in Europe and throughout the world. Due to its dimension and importance, FINCANTIERI plays a key role in the economic development and welfare of the communities in which it operates.

All activities of the Group are carried out in compliance with the law, international conventions (such as the 1997 OECD Convention on Combating Bribery of Foreign Public Officials in International Business Transactions) and in strict adherence to the United Nations Universal Declaration of Human Rights.

FINCANTIERI operates according to the principle of fair competition with honesty, integrity, uprightness and goodwill and with the highest degree of respect for the lawful interests of shareholders, employees, customers, commercial and financial partners, as well as those of the states and communities where it develops its activities. In particular, FINCANTIERI proactively promotes Corporate Social Responsibility – interpreted as a social and environmental concern integrated into its business model – by communicating all relative activities in its periodic reports.

All those who work at FINCANTIERI, without any distinction or exception, are committed to observing and guaranteeing the observation of these principles with respect to their own functions and responsibilities. The conviction that one is operating in the interests or to the advantage of the Company may in no way whatsoever justify a conduct in conflict with these principles.
In view of the complexity of the situations in which FINCANTIERI is involved, it is imperative that the values acknowledged, accepted and shared by the Group, as well as all internal and external responsibilities it assumes, be clearly reiterated. It is for this reason that this Code of Conduct (the "Code") has been drawn up. Its observance by all those working for the Company is of paramount importance for the good operation, reliability and reputation of the Group, assets that are decisive for the success of the enterprise.

The employees of FINCANTIERI, in addition to fulfilling their general duties of loyalty, faithfulness, honesty and compliance with their employment contract in good faith, shall refrain from carrying out activities in competition with those of the Group, shall comply with Company regulations and shall follow the provisions of this Code. The relationships between employees of any level shall be based on clearness, fairness, loyalty and mutual respect.

Managers and all of those working for the Company must have knowledge of this Code, actively contribute to its observance, and report any weakness or evidence of non-compliance.
FINCANTIERI undertakes to promote the awareness of this Code among its employees and encourage their constructive contribution to its contents. Any conduct in conflict with the letter and spirit of this Code shall be punished in accordance with the provisions set forth in this Code. The principles set forth in this Code of Conduct may be supported by specific provisions, regulations or internal procedures aimed at making its application more practical and timely. This Code shall be brought to the knowledge of all those with whom FINCANTIERI entertains business relations.
FINCANTIERI shall supervise the observance of this Code, providing suitable information, prevention and control instruments, as well as ensuring the transparency of the operations and behavior adopted.

The Board of Directors and Company Management shall monitor compliance with this Code of Conduct and its application. They may also forward proposals that integrate or amend its content.
RESPECT FOR THE LAWS, REGULATIONS AND THE CODE OF CONDUCT
Fincantieri respects the laws and regulations in force in each Country or context in which it operates, consistent with the principles, objectives and commitments defined in the Code.
CLIENT RELATIONSHIPS AND COMMERCIAL ACTIVITIES
All actions and activities performed or planned by Fincantieri must be legitimate, checkable, comply with the established regulations, procedures, and regulations and be based on correct and complete information. In commercial, promotional, and industrial relationships, the Company acts according to ethical and legal regulations.
RELATIONS WITH CUSTOMERS AND SUPPLIERS
Fincantieri seeks correct, transparent relationships with its customers and suppliers by offering competitive products and respecting the rules of fair competition. Supplier selection and determination of purchase conditions, performed by Group companies, must be based on an objective evaluation of the quality, price and ability of the supplier to guarantee an adequate level of service.
ASSETS OWNED BY THE COMPANY
Each employee must conserve and protect the assets and resources that the Company entrusts them with to perform their responsibilities.
HUMAN RESOURCES, SAFETY AND ENVIRONMENT
Fincantieri is committed to guaranteeing the professionalism of its employees as well as the health and safety of its employees, external collaborators, customers and communities affected by its business and to reducing its environmental impact.
PRECISION AND AUDITS OF ACCOUNTS AND RECORDS
Fincantieri's financial, accounting and management proof must be based on precise, complete, and verifiable information, in line with the hierarchical structure and organisation of the Company.
LOYALTY TO THE COMPANY AND CONFLICT OF INTEREST
Fincantieri maintains a relationship of trust and loyalty with each of its employees. They must be loyal and faithful and pursue the company's interests. Employees must avoid any situation or activity that could lead to a conflict of interest or that could interfere with their ability to make impartial decisions, in the best interests of the Company.
Information must not be shared that is of a confidential nature, in relation to knowledge or data that belongs to the Company. This information must not be used, communicated or disclosed without specific authorization by the individuals responsible for this information, knowledge or data.
RELATIONSHIPS WITH PUBLIC OFFICIALS WITHIN NATIONAL, EUROPEAN AND FOREIGN PUBLIC INSTITUTIONS AND WITH OTHER PARTIES REPRESENTING COLLECTIVE INTERESTS
Contacts with public officials or government authorities, the public administration, and Italian, European or foreign institutions are limited to those that, upon specific authorization, are assigned to negotiate with or contact these administrations, public officials, authorities, organisations, and/or institutions.
REPORTS ON UNION POLITICAL ORGANISATIONS
Fincantieri regulates its relationships with political organizations and labour unions exclusively based on the current laws, regulations and agreements/contracts, guaranteeing the highest principles of transparency and correct conduct.
RELATIONSHIPS WITH THE PRESS AND MEDIA
Information for external use must be truthful and transparent.
Violation of the Code of Conduct compromises the trust between the Company and employee.
Model 231
The Legislative Decree no. 231 dated June 8, 2001 has introduced administrative liability for legal entities, companies and associations to the Italian legal framework.
The Decree provides for the application of restrictive sanctions against the entity/company whose individuals in senior positions or employees, in performing their activities, have committed certain offences on the entity's behalf and / or to its advantage.

For FINCANTIERI the introduction of the Decree represented an opportunity to reaffirm in its Code of Conduct those principles of loyalty, faithfulness, and honesty that have always distinguished its modus operandi.
To comply with the requirements of Legislative Decree 231/2001 (art.6 II°c.) "[…] the models must meet the following demands:
identify activities where crimes may be committed;
establish specific protocols aimed at planning how the Board's decisions are to be developed and implemented in relation to the crimes to be prevented;
identify ways to manage appropriate financial resources to prevent crimes from being committed;
establish information obligations as regards the Board responsible for overseeing how the models function and are complied with;
introduce an appropriate disciplinary system for issuing sanctions for non-compliance with the measures specified in the model [...]."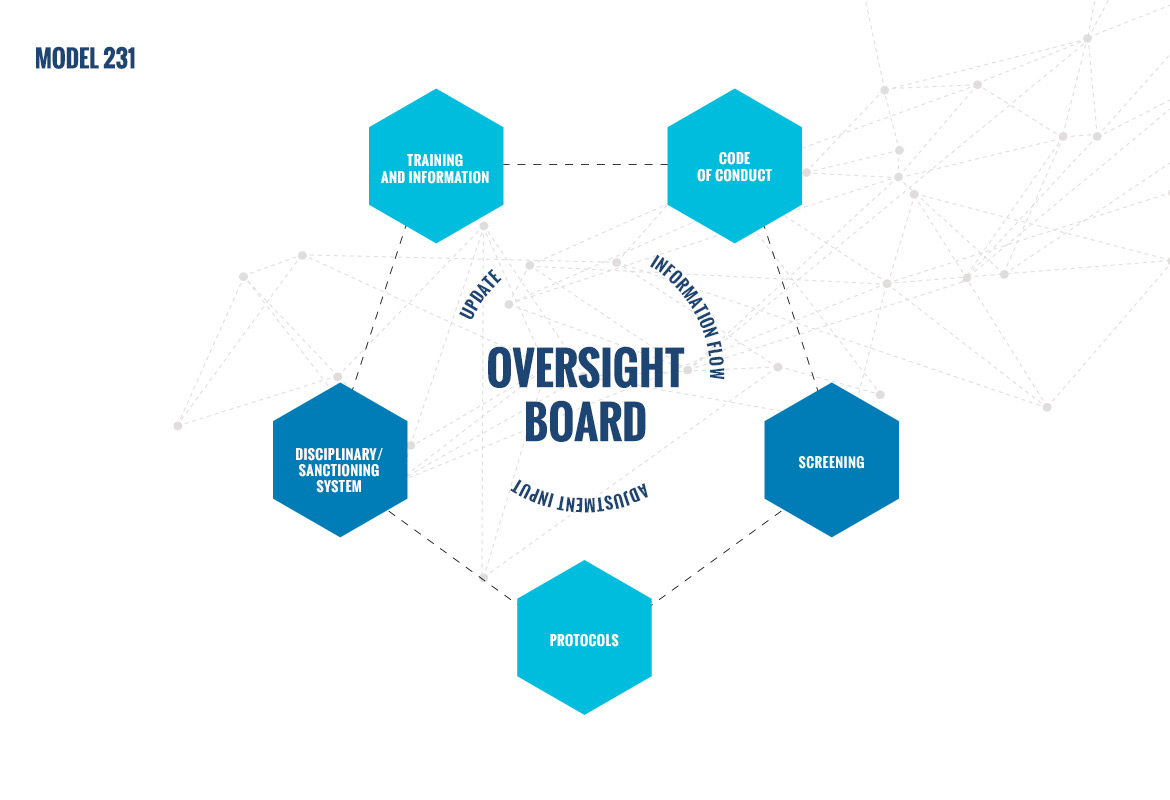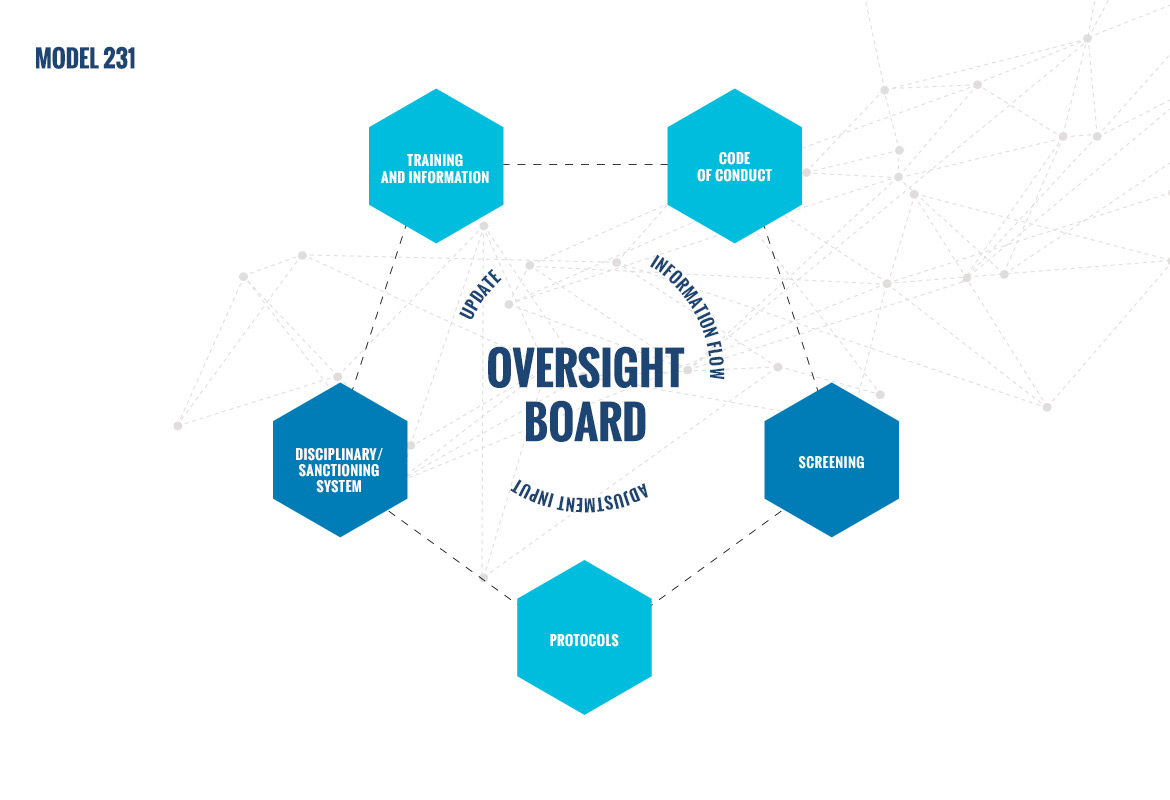 Anti-corruption Policy
Statement from the Chief Executive Officer
To all FINCANTIERI Group personnel,
Company bodies and counterparts
The ever-growing geographic area in which FINCANTIERI operates requires paying even closer attention to a global anti-corruption policy. This policy has always been in force via well-defined internally applied procedures and is now expected to define the business expectations in compliance with international anti-corruption best practice and legislation.

The primary purpose of the anti-corruption policy, and of its associated procedures, is to highlight the Group's commitment to fighting corruption of any kind with a zero tolerance approach. A constant reinforcement in the integrity and transparency of internal behaviors can positively affect the Company's reputation in all the contexts it operates. To this end, I recommend that all Italian and foreign Companies in the Group adopt procedures in compliance with the above mentioned policy and in respect of their own laws and regulations.

A key factor of FINCANTIERI's reputation is its capability to develop its business with loyalty, fairness, transparency, honesty and integrity, respecting national and foreign law. For this reason, FINCANTIERI's aim is to ensure that its activities respect the Code of Conduct's values and principles, adopted and widely publicized since 2002, in the firm belief that the management of the business should be ethically correct and in respect to the current legislations.

FINCANTIERI has been fighting corruption for many years, with a clear prohibition in its Code of Conduct of "Corrupt practices, illegal favors, collusive conduct, and requests (either direct or through third parties) of personal or career-related advantages for oneself or others (…)".
These principles are addressed to all Fincantieri personnel and are expressly accepted by all the suppliers in our Purchase Orders and by business partners when signing contracts.

We all have a duty to help maintain a solid reputation of honesty, integrity and fairness for all our Group Companies, by means of general behavior that complies with all the rules and regulations. For this reason, I invite you to follow this policy and its procedures in any situation you may face, whatever your position or your task may be, and to promptly inform the Oversight Board in case of policy and procedure violations of any kind, whether suspected or proven.

I thank you in advance for your dedication to FINCANTIERI and to the principles that have always inspired its work.

GIUSEPPE BONO
Chief Executive Officer FINCANTIERI S.p.A.
Activities
Advanced Seminar on Decree 231/01 of –July 24, 2013
The Advanced Seminar involved the top management and senior managers of FINCANTIERI and its main subsidiaries. Speakers were Elisa Scaroina (lawyer in Studio Penalisti Associati and Professor of "Corporate Criminal and Procedure Law" and of "Employment Criminal Law" at the L.U.I.S.S. Guido Carli University) and Corrado Pagano (lawyer in Studio Pagano) who spoke about labor health and safety.

The seminar was introduced by the CEO Giuseppe Bono and the general concepts of Legislative Decree no. 231/2001 were then explained, together with some examples of crimes related to labor health, safety and the environment, as well as to corruption, providing the audience with useful suggestions on how these topics can be applied to the day-to-day working environment.
Whistleblowing Policy
Reporting violations to the Oversight Board
WHAT IT IS
With this whistleblowing policy, any employee or third party can report any problem related to non-compliance with our Code of Conduct, with our Organizational Model or with FINCANTIERI company procedures. The best way to send a report is to include your name, in order to help any verification of the facts and the collection of further information.

WHAT TO SAY
Here are some illustrative, although not exhaustive, examples of possible reports:
- conflict of interest cases unknown to the company;
- corruption attempt of a third party towards any employee or of any employee towards a third party;
- fraud;
- inappropriate use of the company assets;
- intentional communication of false information to a Public Administration;
- ……
Any reports of an ambiguous nature, or not detailed, or clearly made in bad faith, or with slanderous and libelous content will not be taken into account.


HOW TO SAY IT
You can send your report to:
e-mail:

mail:

Organismo di Vigilanza
FINCANTIERI S.p.A. c/o CO-AUD
Via Genova 1 – 34121 Trieste
RISERVATO OdV

SAFEGUARD RULES
The Company guarantees the utmost confidentiality as far as the source and the information provided are concerned, except when legally required. FINCANTIERI will avoid retaliation of any kind (disciplinary sanctions, downgrading, suspension, lay-off) as well as any discrimination to those Company employees who, in good faith, report events or situations connected to compliance with our Code of Conduct, Organizational Model, Company procedures and legal regulations.
Training
The understanding and promotion of business ethics among Fincantieri is of primary importance, together with full awareness of the pertinent legislation and of the consequences of the implementation of the Organizational, Management and Control Model.
To this end, Fincantieri has adopted a training model to follow its personnel from their hiring through their whole career path, by means of periodic reviews and mandatory training sessions.
The periodic reviews are tailored to every organizational area and help personnel to focus their attention on the issues, the legislation and the relative updates that may affect their daily activities.