HEALTH AND SAFETY IN THE WORKPLACE: TWO ABSOLUTE PRIORITIES
Due to its size and the importance of its work, Fincantieri is well aware of its important role in promoting economic growth and the wellbeing of the communities in which it operates. To meet this commitment, the Group's first thought in every single thing it does is to protect the health and safety of its workers in all the ways it is able, by adopting and constantly updating the appropriate tools.
This corporate culture, taken on board by all levels of the Group, has real applications and tangible results: during 2015 Fincantieri continued the certification process of its Corporate Management System in Health and Safety in the Workplace in compliance with the requirements of the BS OHSAS 18001 standard. Furthermore, the "Towards Zero Accidents" project has continued apace for the fourth consecutive year, a project that has to date reduced accidents by 50% since 2011.
This is an important and wide-ranging initiative that operates on various fronts: besides the communication campaign to inform all employees about best practices and promote the adoption of advanced control software technologies, a new training and information instrument called "Active Safety" was introduced last year. The project initially involved 4,000 of Fincantieri's direct employees and was later extended to workers from outside companies, with a total of over 8,500 hours provided every month.
The goal is to increasingly promote a culture of safety as Fincantieri's absolute priority, by means of a course of increasing awareness on various themes on-the-job. Lessons are held in the workplace to analyze and assess potential problems and how to prevent any health risks.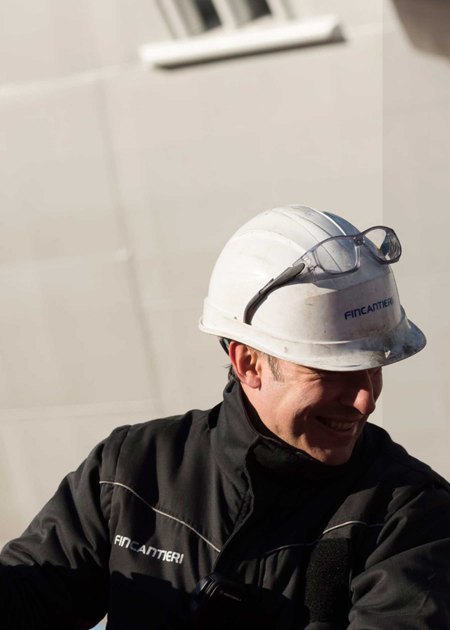 INSIEME IN SICUREZZA (TOGETHER IN SAFETY) aims at minimizing risks in multiple-employer workplaces and favouring all prevention and protection measures in a framework where FINCANTIERI employees and third parties workers work together in a safe and integrated way. INSIEME IN SICUREZZA is a multimedia video course, signed by FINCANTIERI and addressed to the workers of all subcontractors in each and every FINCANTIERI Group shipyard.
Working safely and in line with the Company's production system is a value for FINCANTIERI.
30,000 workers - our target: the workers of all sub-contractors in Fincantieri Italian shipyards, with different origins, cultures, languages, coming from EU and extra-EU countries
100 workers – both in-house and sub-contractors – featuring in the video course
10 languages (Albanian, Bengali, Chinese, Croatian, French, English, Italian, Romanian, Polish, Spanish)
1,839 video clips for a total of 810 minutes of raw footage
10 HSE managers involved in the project
100 versions of the video course: 10 languages x 10 production units
150 minutes – the final result
35 possible interference risks
180 recommended prevention and protection best practices
This video and its content such as, but not limited to, text, design, audio and images are the property of FINCANTIERI S.p.A and cannot be used, copied, downloaded, published, sent, forwarded or circulated without the prior written approval of FINCANTIERI S.p.A.