230 years of history and more than 7,000 vessels built
One of the world's largest shipbuilding groups and number one for diversification and innovation & Leading Western shipbuilder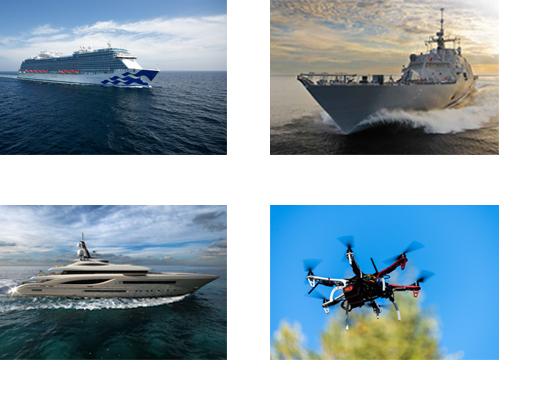 Leader in cruise ship design and construction and reference player in all high-tech shipbuilding industry sectors from naval to offshore vessels, from high-complexity special vessels and ferries to mega yachts, as well as in ship repairs and conversions, production of systems and mechanical and electrical component equipment, cruise ship interiors solutions, electronic systems and software, infrastructures and maritime constructions and after-sales services.
Our clients include the world's biggest cruise operators, the Italian and US Navies, as well as numerous foreign navies. Fincantieri is also partner to some of the main European defence companies within supranational programs. Compared with less diversified players, we boast a broad and diversified business portfolio, which allows us to mitigate the effects of fluctuations in demand in the end markets served.
A Global Group with an Italian identity
We have always kept our management offices in Italy, as well as all our distinctive engineering and production know-how.
We work to create an increasingly technological and sustainbale future, focusing on innovation and respect for people and the environment.
Our every action, project, initiative or decision is based on the strict observance of the law, on the protection of workers and the environment, and on value creation for all our stakeholders: shareholders, employees, clients, trade and financial partners, local communities and groups.

Fincantieri strategic approach to sustainability is represented in the Sustainability Plan which, through the Charter of Sustainability Commitments, breaks down the commitments undertaken by the Group into qualitative and quantitative targets that can be measured over time. It takes into consideration the ten principles of the UN Global Compact and it contributes to the achievement of the Sustainable Development Goals (SDGs) of the UN's 2030 Agenda.
TOTAL BACKLOG AT € 32.6 BILLION, WITH VISIBILITY UP TO 2030
Our technological leadership is based on our high capacity to innovate. We acquired our system integrator know-how through years of effective management of extremely complex projects as the ones of our core business: the shipbuilding.
Innovation is an essential target that we aim at. We regard technological development and continuous improvement as key goals of every action, project, initiative, and decision made by the Group.