We are also bound by laws and regulations to protect the environment and people's health that impose limits on atmospheric emissions, discharges into water and soil and that set rules for the treatment of hazardous waste and the reclamation of any polluted sites.
Energy efficiency and savings are a priority for us and we are committed to gradually improving our energy performance in order to obtain greater efficiency and guarantee the sustainability of our activities.
The Parent Company has set up a structure and organizational process aimed at preparing annual site energy diagnoses and identifying improvement plans to continuously improve the company's energy performance.
In line with the Parent Company's approach, foreign subsidiaries have also launched initiatives to reduce energy consumption and implement more efficient technologies. In particular, mass replacements of lights with new LED lights has been started in the US production sites and automatic switch off systems have been installed in ventilation, air intake and air conditioning systems.
In 2018, the subsidiary VARD purchased electricity entirely from renewable sources in all its Norwegian sites, for a proportion of around 8% of the electricity consumed by the whole Group.
Water is a precious natural resource whose availability is increasingly limited owing to climate change, therefore safeguarding it is one of the main commitments in Fincantieri's Environmental Policy.
Each Fincantieri production site, certified in accordance with ISO 14001, draws up its own site policy, which is binding for all workers.
We monitor water consumption during the production cycle and we plan and implement plant works aimed at saving water in the shipyards, such as, for example: leak tests and works to restore the distribution networks, installation of timed mixers and implementation of more efficient gasification systems serving the technical gas tanks.
We have implemented initiatives to promote virtuous and eco-sustainable behaviours in everyday actions, including in our offices.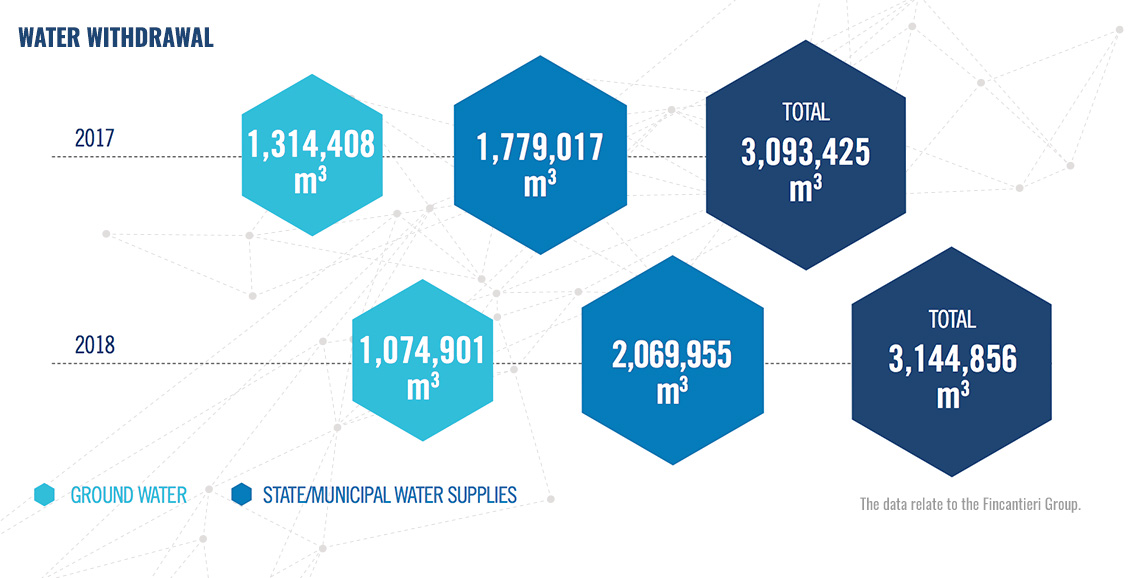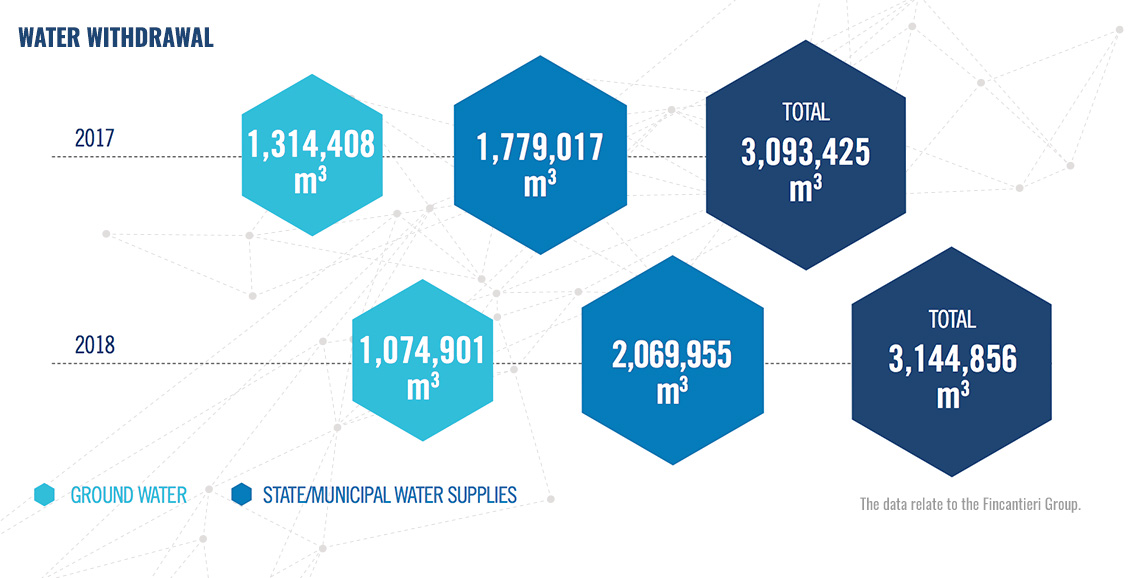 As regards water discharges, in accordance with the authorization profiles of the different shipyards, we carry out sampling and laboratory analysis in order to ensure compliance with the limits laid down by the law for analytes subject to monitoring, including the presence of heavy metals. With a view to continuous improvement, we are reviewing existing plant solutions and evolving towards new technological solutions.
Procurement of raw materials has a strategic role for our activity. In recent years more significance has been given to the selection of materials in order to reduce their environmental impact as much as possible. Even while preparing specific contractual techniques, needed for the procurement process, materials for the interiors are identified that, though possessing the same technical, qualitative and compliance characteristics, are also environmentally compatible.

The main raw materials present in the Group's production cycle are:
steel for the hull;
copper for the electric wiring and automation;
steel, iron, plastics and other iron and non-iron alloys for the piping installed on board;
welding materials;
paint products.

As regards characteristics of paint products, low solvent paint products have been introduced for the vessels built by the Naval Division. The Merchant Division is working in the same direction, involving the main commercial partners in a project.


| | | | |
| --- | --- | --- | --- |
| TYPE OF MATERIAL | MEASUREMENT UNIT | 2017 | 2018 |
| Carbon dioxide | t | 14,001 | 15,984 |
| Argon | m3 | 522,988 | 702,493 |
| Nitrogen | m3 | 604,115 | 557,401 |
| Oxygen | m3 | 5,070,424 | 5,677,634 |
| Paints | l | 1,636,211 | 1,882,573 |
The 2017 data refer to Fincantieri S.p.A. while the 2018 data include Fincantieri S.p.A. and Fincantieri Marine Group.
We promote responsible waste management by boosting separate collection for recycling.
A specific set of guidelines for the collection of process residues and waste disposal contains the criteria to be adopted in order to manage the residues produced during processing. In the Italian sites, around 70% of total waste is recycled.

For the VARD group, waste management rules were introduced in 2011 which have increased the percentage of waste recycled from 65% in 2012 to over 90% in 2018.
In the United States Fincantieri Marine Group has specific waste management policies and procedures to continuously improve the processes. The organization monitors the waste produced and, as a result, is able to ensure that all materials recovered are collected and managed correctly, while also seeking innovative solutions to re-use waste products.
Various initiatives were implemented to reduce paper consumption, such as the digitalization of documents to create digital archives and setting printers to print on both sides of the sheet as the default setting.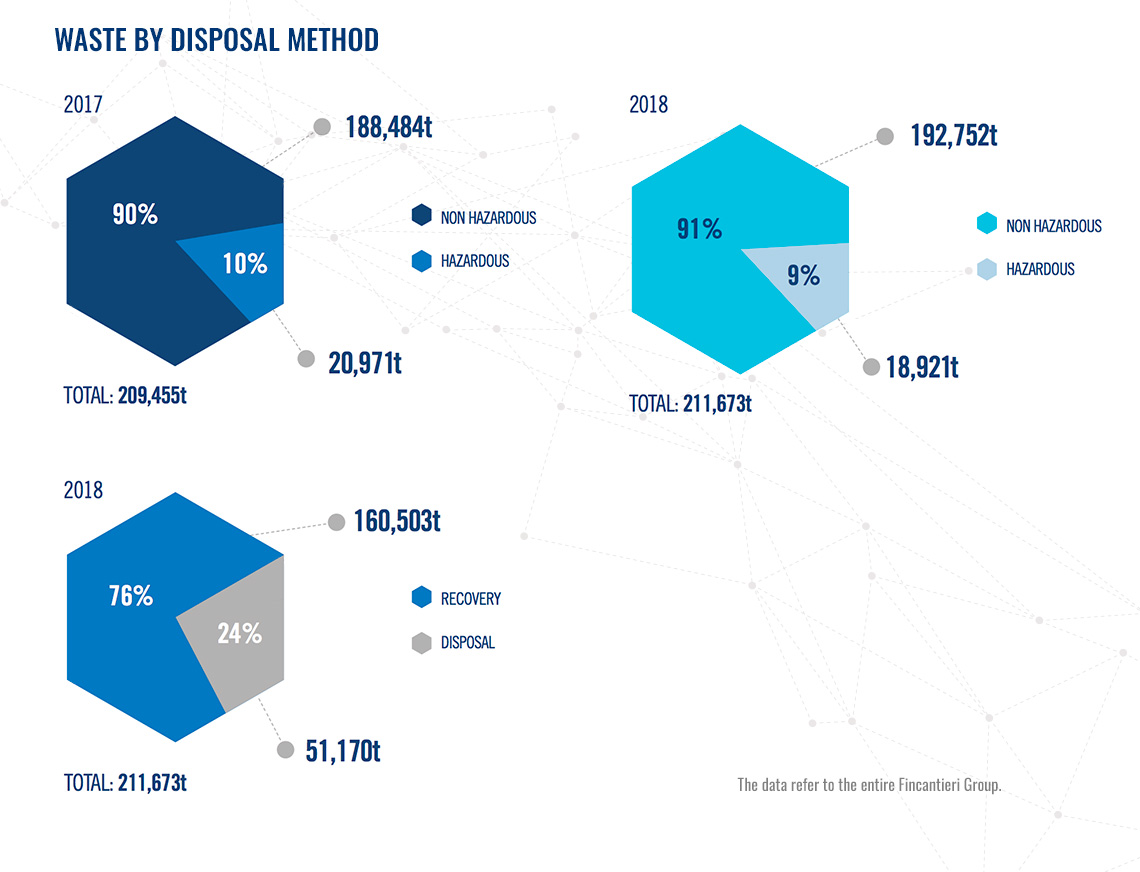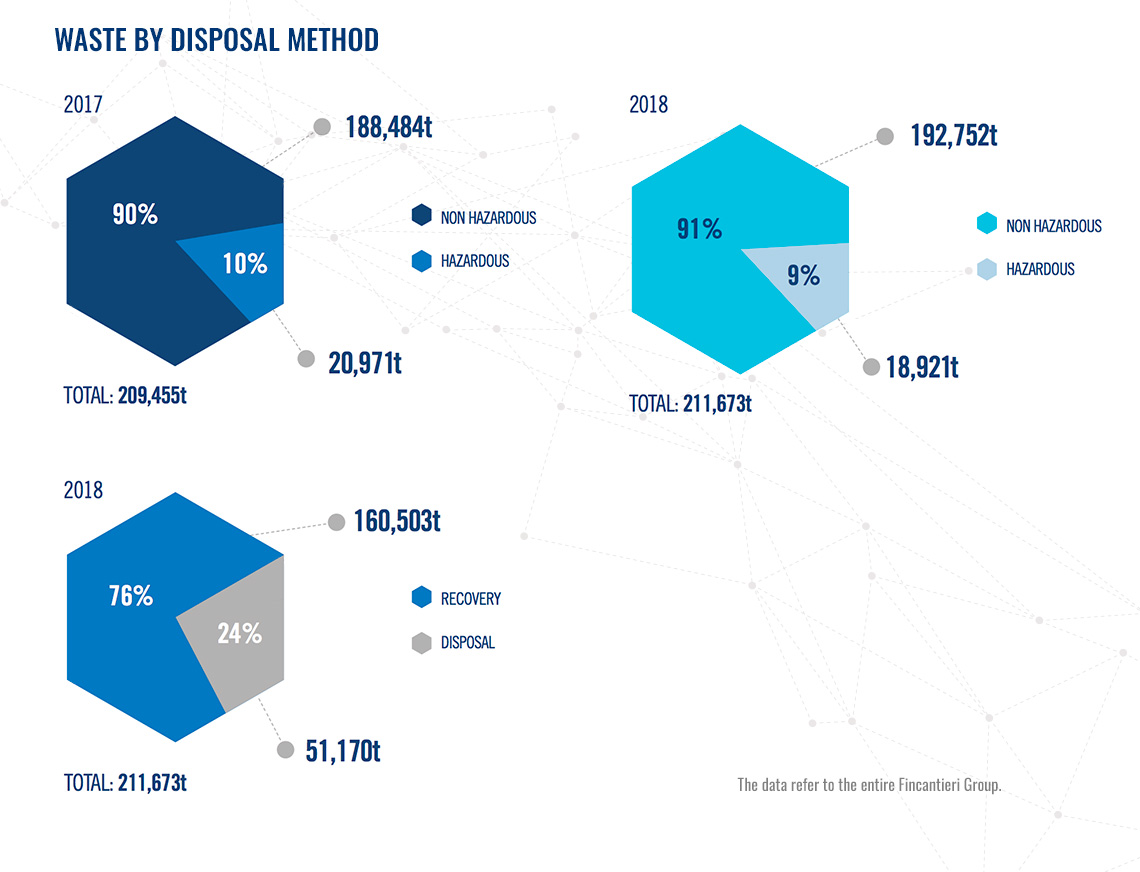 We aim to reduce greenhouse gas (GHG) emissions including through the sustainable management of mobility. Company policy promotes the use of public transport whenever this is possible and does not create excessive difficulties for travel, thus avoiding recourse to private vehicles use.
We are investing in new technologies to reduce employees' travel, promoting the use
of video and teleconferencing.
An internal communication campaign was launched to enhance sustainable mobility initiatives, including the start of internal carpooling.
In the same vein, there is the agreement with the provider of welfare services, which allows
for the reimbursement of season tickets issued for use on public transport.
The gradual replacement of the service vehicle pool with vehicles that use hybrid technology is currently being completed. It has involved, among other things, the installation of electrical charging points in all production sites, and their use has also been made gradually available to employees.
We constantly monitor our emissions of greenhouse gases (GHG) with the aim of achieving continuous improvements in terms of impact.
To reduce CO2 emissions, starting in 2015 we implemented measures aimed at reducing leaks in the CO2 distribution network (used in welding) and we set up electrical points for ships under construction or maintenance in order to contain the need to produce energy using the onboard systems.
Similar systems have been launched at some Norwegian shipyards in the VARD group, which is equally sensitive to these issues and constantly seeks new methods to improve its operational practices and minimize the impact of emissions from its industrial activities.
The other indirect (Scope 3) emissions have also been partially calculated in 2018. These are emissions connected with employee travel, consumption of raw materials, water consumption, waste disposal and the procurement chain for raw materials. These emissions reached 49,908 tCO2e.
The project to centralize delivery planning (Control Tower), launched in Italy in 2014, has the goal of managing the shipyards' delivery requests in order to reduce transport costs, improve reliability and timeliness of deliveries and reduce environmental impact. This project has enabled polluting emissions to be reduced by:


planning deliveries using the outgoing and return formula;
increasing vehicle saturation (combing multiple delivery requests into a single carrier).

The project led to the reduction of 210 heavy road vehicles in 2018 and a reduction of 69,300 kg of carbon dioxide (CO2), equal to the average CO2 absorbed in one year by around 11 hectares of forest.


Other emissions of polluting gases
We also monitor and report on other emissions of polluting gases.
The gradual conversion of all the heating networks in the Italian shipyards has involved the elimination of heavy combustibles and the introduction of methane systems, resulting in negligible sulphur oxide (SOX) emissions.
SOX emissions of the VARD group and Fincantieri Marine Group amounted to 0.13 tSOX in 2017 and 0.74 tSOX in 2018.
With a view to continuous improvement, the Norwegian group is focused on researching new approaches to contain and minimize the impact of emissions resulting from industrial activities. The group's commitment is also demonstrated by its participation, since 2008, in the Confederation of Norwegian Enterprises' NOX-Fund, whose primary objective is to reduce emissions of nitrogen oxides (NOX). The group's NOX emissions, associated solely with natural gas combustion, amounted to 18.2 tNOX in 2017 and 24.5 tNOX in 2018.
Fincantieri's production sites are subject to environmental authorizations that set limits that must be observed as regards maximum consumption and total emissions of volatile organic compounds (VOCs) into the atmosphere. Compliance with these limits is guaranteed by planning a gradual substitution of the products used with others with a lower solvent content and by adopting appropriate plant measures to reduce emissions.
New sandblasting and painting plants have been installed, most recently a plant equipped with an afterburning system for the VOCs emitted, which has been operational since 2017 at the Monfalcone yard.
We monitor and report on both VOC consumption and VOC emissions at Fincantieri SpA production sites. Total VOC consumption was 689 t and in 2018 was 627 t, while total emissions in 2017 were 522 t and in 2018 were 444 t.
Emissions in relation to production volume (g VOC/hours worked) in 2017 were 10.6 and in 2018 were 8.8, showing a significant improvement.
Environmental investments
In 2018, we invested 7.9 million euros in environmental protection.

In particular, the Parent Company launched initiatives to both improve environmental impact and reduce direct and indirect atmospheric emissions.
€ 7.9 mln
for environmental protection