A cruise ship is an ideal and self-sufficient floating city in constant communication with land. It is designed, built and managed to respect the ecosystems of the areas in which it must operate and to safeguard the health and life of those temporarily living there for work or fun, thousands of people from different countries and cultures, who live together and adhere to its rules of governance.
THE NUMBERS OF COMPLEXITY - What you need on average to build a cruise ship
22,000
sqm of public space: the size of 3 football fields
3,800
kms of cable: more than 7 times the distance from Rome to Venice
2,000,000
hours of shipyard work
We are committed to develop innovative technologies using the knowledge and skills acquired over the years in order to contribute to the creation of environmentally sustainable products, services and infrastructures. In our strategies, we have embraced the objectives of the International Maritime Organization (IMO), the specialized United Nations Agency protecting the safety of human life at sea and the environment, summarized in the slogan "Safe, secure and efficient shipping on clean oceans."

Our ships represent a technological benchmark at the European and global level. They feature the most advanced technologies, with technical solutions that provide energy savings, emission reduction, high performance and high quality. In particular, we follow all the international best practices to minimize a ship's environmental impact throughout its entire life cycle.
We also play an active and proactive role in the development of international safety regulations and we are an accredited representative with the IMO, whose main conventions are aimed at:
improving maritime security (mostly from a safety point of view) – SOLAS;
limiting the pollution of the seas – MARPOL;
standardizing maritime labour rules – ILO.
Our commitments are aligned with the regulatory framework, at a global and local level, that requires a rapid reduction of emissions into the air and water. In particular, the IMO has set targets to reduce average CO2 intensity per tonne/mile by 30% compared to 2008 by 2025, by 40% by 2030 and by 70% by 2050. A further objective is that of reducing the total annual greenhouse gas (GHG) emissions by at least 50% compared to 2008 levels by 2050. At a European level, even more challenging targets are being discussed, which, through the application of new technologies and fuels and the revision of the regulatory framework, also aim at the Net Zero concept for cruise ships. Targets we are committed to achieve for the cruise business, as stated in the 2023-2027 Sustainability Plan.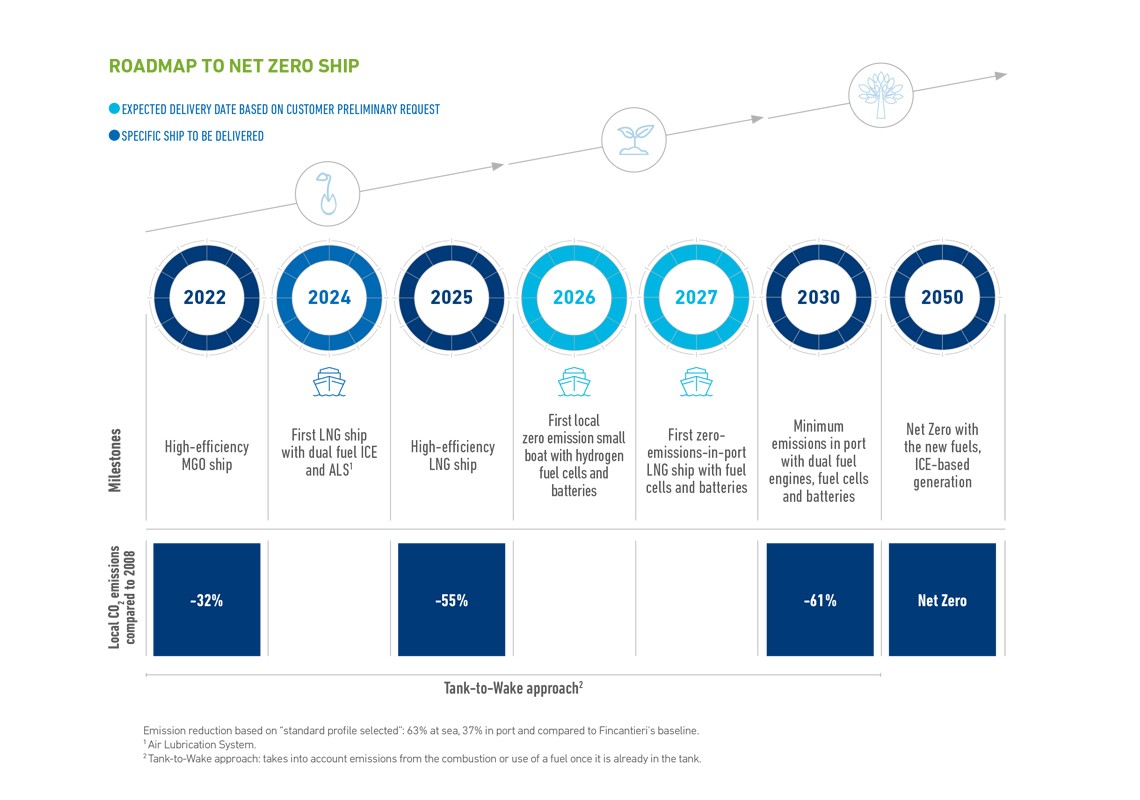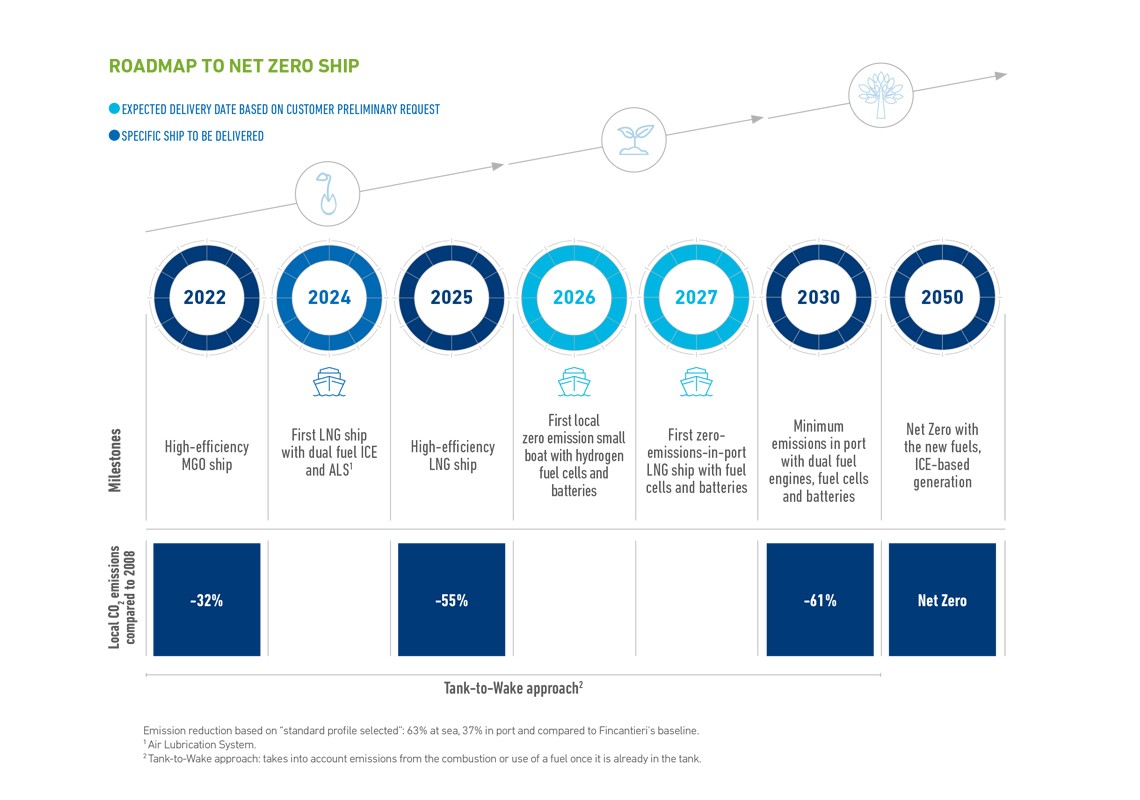 Energy saving and emissions reduction
The reduction of environmental impact has become one of the most important drivers for design and innovation in the field of cruise ships.
We have developed, validated and applied more than 100 initiatives on our ships aimed at:
improving hydrodynamic and propulsive efficiency;
exploiting waste heat (fumes and cooling water) with recovery and cogeneration systems;
systematically reducing the energy needs of users on board.
In particular, we have validated and applied on our ships a series of initiatives, included in the Company's "Ecosustainable Design" procedure, that are also aimed at energy saving and reducing air pollution.
To meet the challenge of reducing emissions, Fincantieri is experimenting with various green technologies, which are described below.
LIQUEFIED NATURAL GAS
The currently most common configuration for emissions reduction is based on latest generation diesel engines combined with the installation of fume purification systems in the exhaust systems. Another method which is gradually being established is the substitution of traditional fuels with Liquefied Natural Gas (LNG) in view of the indisputable benefits in terms of emission impact. This reduction is around 25% in terms of CO2 emissions and over 75% in terms of emissions of other particulates.



Fincantieri already built a special LNG-powered ferry for Canada in the past and, in 2019, it received orders for prototype dual-fuel cruise ships primarily powered by LNG.
Fuel cell
The future lies in the application of fuel cells, electrochemical conversion devices that generate electricity and heat by combining a fuel (typically hydrogen, methanol or methane) and a comburent (oxygen), in the absence of combustion. In this way, no polluting substances are actually produced.
The Company has set up a research laboratory, in collaboration with the University of Trieste, with the aim of testing power generation systems based on different types of fuel cells.
Lithium batteries
Another technology we are investing in is lithium batteries. In 2021, we formed the Power4Future joint venture with Faist to focus on this project. As well as powering ships covering short distances, the batteries will also be able to contribute to zero emissions in port when there is no cold ironing.
Fincantieri experimented with this a few years ago, installing a system of mega lithium batteries to power the Grimaldi group's ferries, thus avoiding the need to run diesel generators during port stopovers.
VARD has delivered various small/medium-sized vessels equipped with electric batteries to cover all or part of the energy requirements and it is committed to testing other innovative solutions.
Hydrogen
Hydrogen or, alternatively, ammonia are solutions that could enable the maritime transport segment to reduce its emissions to zero. But there is still a long way to go since these involve developing technologies.
In collaboration with the Consiglio Nazionale delle Ricerche (CNR, National Research Council) and the Universities of Genoa, Naples and Palermo, with the contribution of the Italian Ministry of Economic Development, we have developed a project to realize a laboratory ship approximately 25 metres long to study power generation technologies with low environmental impact. The ship, called Zeus – Zero Emission Ultimate Ship, inaugurated at the beginning of 2022, is powered by electric propulsion engines, which will be powered by a fuel cell system of about 130 kW and a battery system capable of ensuring around 6 hours' navigation autonomy at zero emissions, thanks to about 50 kg of hydrogen contained in metal hydride cylinders. Zeus will be the first marine vessel powered exclusively by fuel cells.
Fincantieri has joined the public-private partnership launched by the European Commission and the Waterborne Technology Platform to decarbonize waterborne transport. The aim is to present zero-emission solutions for all types of ships and services in the maritime segment by 2030, making waterborne transport completely emission-free by 2050. The project is funded by the Horizon Europe research and innovation programme.
Furthermore, Fincantieri is among the 35 European companies participating in the first IPCEI (Important Project of Common European Interest) on hydrogen, which, in July 2022, obtained the European Commission's authorization for funding through the State Aid scheme envisaged for IPCEIs.
Cold ironing
One of our goals is to achieve zero emissions in ports by 2030. The solution is cold ironing, the dock electrification system that allows electricity to be supplied to the ship directly from the shore, so that the ship's engines can be shut down while it is berthed. In addition to reducing polluting emissions, the supply of energy from the grid would help reduce noise pollution and improve comfort on board while in port.
To implement this technology in ports, Fincantieri, through its subsidiary Fincantieri SI, has initiated a series of agreements, including a partnership with Enel X for the construction of new-generation port infrastructure and the electrification of logistics activities on shore.
To protect the areas subject to cruise navigation, only bacteriologically and chemically pure water can be discharged into the sea. Any other residue must be stored on board and unloaded in port for further treatment.
In particular, our focus on solid waste treatment is realized using collection, dehumidification, kitchen waste treatment; sorting and recycling of hotel waste; compaction and/or incineration (where permitted) of solid waste; pelletizing, storage of waste for subsequent unloading in port.

Liquid waste initiatives instead concern physical and biological treatment (in line with the best land standards) of all on-board wastewater (sewage, grey water, galley and laundry effluents); storage of purified water; thickening and drying of residual sludge for subsequent unloading in port.

To avoid contamination with species from different ecosystems, we sterilize ballast water before discharging it, using latest generation ballast water treatment systems, based on the pre-filtering of plankton and subsequent sterilization with ultraviolet rays.
The naval vessel market is strongly influenced by the continual demand to increase efficiency standards in the international defence segment and is one of the most demanding challenges. We are a reference player for many Navies and we face challenges thanks to our consolidated experience in the design sector; our wealth of knowhow has enabled us to deliver over 100 naval vessels since 1990.
A consolidated experience has enabled us to combine the development of platforms with high operational performance with the application of solutions aimed at containing environmental impacts.

The new vessels, some of which are already in service, feature design choices aimed at containing environmental impact in terms of emissions to air, fuel consumption, wastewater treatment, use of special treatments to preserve the hull and the possibility, for certain vessels to be delivered shortly, to contain an area of sea that is polluted, with the possibility of collecting and storing the pollutants on board.
As regards power generation, building on more than ten years of experience of submarines, studies are underway for the use of fuel cells on naval vessels.

In particular, we are focusing on solutions aimed at:
Energy saving and reduction of emissions
The topic is addressed by introducing energy savings criteria developed mainly in ship architecture by selecting endothermic engines (both propulsion engines and power generation engines) with appropriate technological solutions and by selecting high energy efficiency materials or materials with high efficiency heat transfer.
On the other hand, the special characteristics of naval vessels and the consequent system solutions optimized to deliver mission performance do not, currently, enable the introduction of energy recovery systems.
Treatment and storage of solid and liquid waste
The technological solutions adopted for the treatment of solid waste are entrusted to the converters. These machines enable solid waste to be dried and sterilized. The reduction in volume and weight and subsequent automatic vacuum storage allow on-board retention to be increased. The modern converters adopted enable a volume reduction of 70% and weight reduction of 30%.
For liquid waste, we have adopted technological solutions that are in line with the international regulations already used for merchant vessels:
IMO MEPC 227 (62) for grey water and sewage treatment;
IMO MEPC 107 (49) for bilge water treatment.
Grey water and sewage are collected into appropriate physical and chemical treatment units which macerate the suspended solids and reduce the contents of the Total Suspended Solids (TSS), Biochemical Oxygen Demand (BOD) and Chemical Oxygen Demand (COD) using aerobic processes. The process also envisages disinfection using UV systems.

WHICH OBJECTIVES DO WE HAVE ON THIS TOPIC?
Innovation, research and development: 2018-2022 Sustainability Plan objectives and targets


Commitments
Objectives
Description/ Target
Benefits
Status
Timetable

Investments in research and innovation with the aim of developing sustainable, efficient, safe and competitive products and processes with particular reference to the technologies needed to reduce environmental impact and increase their digitalization

Keep a spending budget in R&D (costs and investments) above € 90 mln/year (of which 60% in clean technologies)

Keep a spending budget in R&D (costs and investments) for Fincantieri S.p.A. above € 90 mln/year (of which 60% in clean technologies)

Confirm the Company's commitment through Research and Development investments with specific reference to clean technologies that will contribute to:

• Anticipating customer needs and providing state-of-the-art solutions

• Bringing climate benefits

Achieved

In 2020 the the R&D budget (costs and investments) of Fincantieri S.p.A. was 113 million euros, of which 65% in clean technologies such as scrubbers that purify exhaust fumes of hazardous chemicals and pollutants, selective catalytic reduction systems (SCR) for ships or liquefied natural gas (LNG) propulsion.

2020

Development of solutions and technologies for the resumption of activities in the subsequent exit stages from the pandemic crisis

Develop the offer of solutions and technologies related to the resumption of activities in compliance with the indications and measures issued at national and international level to combat and contain the spread of the COVID-19 epidemic in workplaces and in social gathering places

These services will be aimed at providing technical and professional support in the following activities:

• «Outdoor» detection tunnel (with related increase in outdoor detection capability)

• «Indoor» environmental sanitation mechanisms (through the ionization of circulating air)

• Mitigate the risk of infection

• Ensure business continuity

• Maximize competitiveness and efficiency

• Ensure legislative compliance

Achieved

In 2020, in order to develop an offer of solutions and technologies tied to the recovery of activities in observance of the instructions and measures issued at the national and international levels to combat and reduce the spread of the COVID-19 epidemic at the workplace and in places of social aggregation, Fincantieri NexTech has developed a tunnel for the outdoor measurement of body temperature and environmental sanitation mechanisms through the ionization of indoor air.

2020

Development of intelligent ships and platforms (smart ships / smart offshore infrastructure) and autonomous ships. Development of innovative solutions for yards (smart yards)

The objective will be developed through the following activities:

• A reference framework for secure interconnection (in terms of cybersecurity) between all the on-board systems to exchange/record data in real time (or near real time) on open formats

• On-board systems to support the average level of autonomy (e.g. L4 as defined by LLOYD)

• Offshore platforms capable of collecting double the energy of current platforms

• Industria 4.0 tool to be adopted at yards to increase productivity by 50%

• Tool to access digital assembly instructions and monitor progress of production work in real time on company technical systems

• Remotely controlled or unmanned military platforms able to operate in scenarios that are dangerous for operators (e.g. firefighting, detection of contaminated areas, etc.) or able to significantly increase the operational effectiveness of the mission

• Optimize performance, minimize operating costs and adhering to the highest safety standards

• Obtain information on the operating status in order to prepare the best operating scenario, even for critical or emergency situations

• Support development of the blue economy

Work in progress

2030
Environmental impact of products and services: 2018-2022 Sustainability Plan objectives and targets


Commitments
Objectives
Description/ Target
Benefits
Status
Timetable

Development of ecologically sustainable products and services with the aim of contributing to a circular and low carbon economy

Definition of an eco-design system to promote the development of environmentally sustainable ships

Identify for each project the ecologically sustainable design objectives and ensure that the assumptions, principles and control metrics (KPIs) identified for the construction of an ecologically sustainable product are translated into design choices and acquisition of the plant / machinery that make up the ship product following the internal eco-design procedure.

In addition, the initiatives already made available will be updated based on the latest technological developments and those which, while widespread and in use for some time, are no longer innovative will be eliminated




Define at least 8 low environmental impact initiatives for the Merchant Shipping Division

Define 10 initiatives, 9 of which are related to CO2 reduction and 1 to containment of noise emitted into water for the Naval Shipping Division

Increase the number of eco-design initiatives available to designers in order to implement new systems and components with low environmental impact

Achieved

In 2020, we have updated the initiatives already made available in line with the latest technological developments and eliminated those which, having become widespread and in common use for some time, are no longer innovative. With reference to the different environmental aspects, we have defined criteria to enhance internally the technological solutions adopted for each ship built. We defined 8 new environmentally friendly initiatives for the Merchant Shipping Division and 10 new initiatives for the Naval Shipping Division.

2020

Development of maritime ecological dredging services

Develop the offer of services related to maritime dredging by chartering the vessel Decomar from the company Fincantieri Dragaggi Ecologici S.p.A., with regard to:

• Coastal nourishment

• Reclamation of industrial sites

• Port dredging

The project will consist of the following stages:

• 2020 - Functional test of the Decomar

• 2022 - Launch of the service

• Maximise the extraction of available resources and minimise waste in individual dredging areas

• Minimise the activity's footprint on the seabed

• Minimise the negative environmental impacts of the aggregate extraction process

• Mitigate the dredging effects of aggregates on other users of the seabed

Achieved

Fincantieri DECO - Fincantieri Dragaggi Ecologici S.p.A. has developed the offer of services related to maritime dredging with the use of an innovative ecological dredging system for the sustainable reclamation of the seabed. In 2020, a testing phase was launched which was completed in 2021.
In 2022, the service has started although some issues need to be resolved in relation to the eco-dredging technology in use. These issues emerged during the first tender in Ravenna and led to the definition of equipment modifications needed to achieve adequate dredging capacity.

2020-2022

Promote studies and initiatives on the circular economy

Carry out a study on the circular economy for Fincantieri S.p.A.'s cruise ships in collaboration with a university / research centre in order to:

• Analyse the level of maturity of the players in the shipbuilding industry

• Identify an analysis methodology

• Evaluate and identify the tools needed to implement the logic of the circular economy

• Monitor and strengthen the Company in «green» markets and with customers with a strong focus on these issues

• Objectively measure impacts along the entire value chain and product life cycle in order to make informed and effective decisions to improve environmental performance and/or to communicate this performance to investors

• Support management of the brand reputation by improving the company image and relations with institutions and other stakeholders

Work in progress

2025

Develop technological solutions that enable energy savings to be increased for ships with the same features (green ships)

Develop ships with high energy savings from eco-friendly/renewable sources, with reduced environmental impact in terms of emissions into the air, discharges into the sea and noise

Increase ship efficiency by 30%

Eliminate ship emissions in ports and halve navigation emissions

• Decrease greenhouse gas and other environmental impacts

• Maintain competitiveness and product compatibility with the new advanced regulations

Work in progress

2030