We are aware how important it is to protect the environment and this is why we are committed to protecting natural resources and why we endorse short, medium and long-term sustainability principles in our strategic decisions and business processes.
The Environmental, Health and Safety Policy summarizes the Company's intention clearly and is binding for all Fincantieri employees. It is addressed to all suppliers and is shared, in particular, through the coordination activities carried out continuously in the various production sites.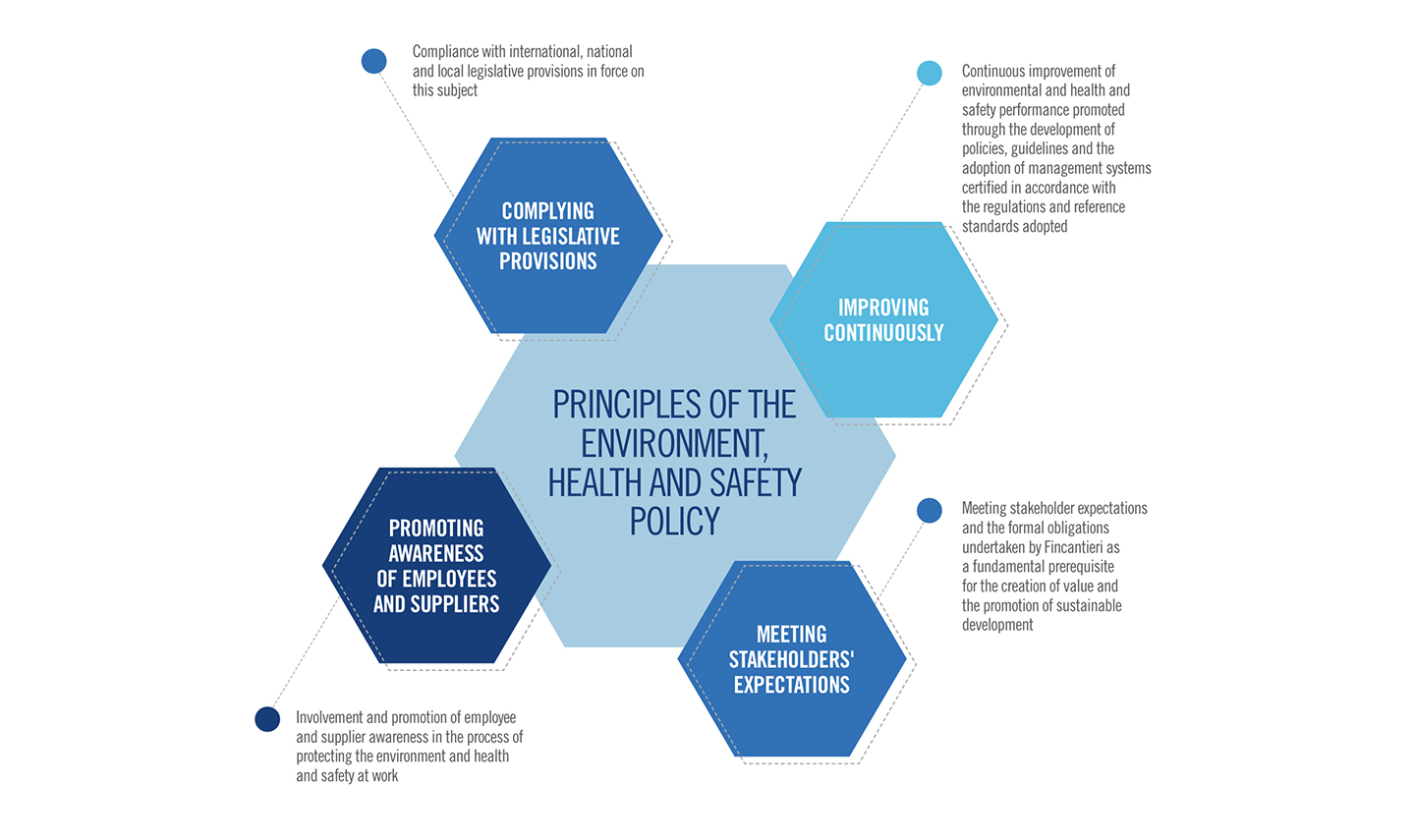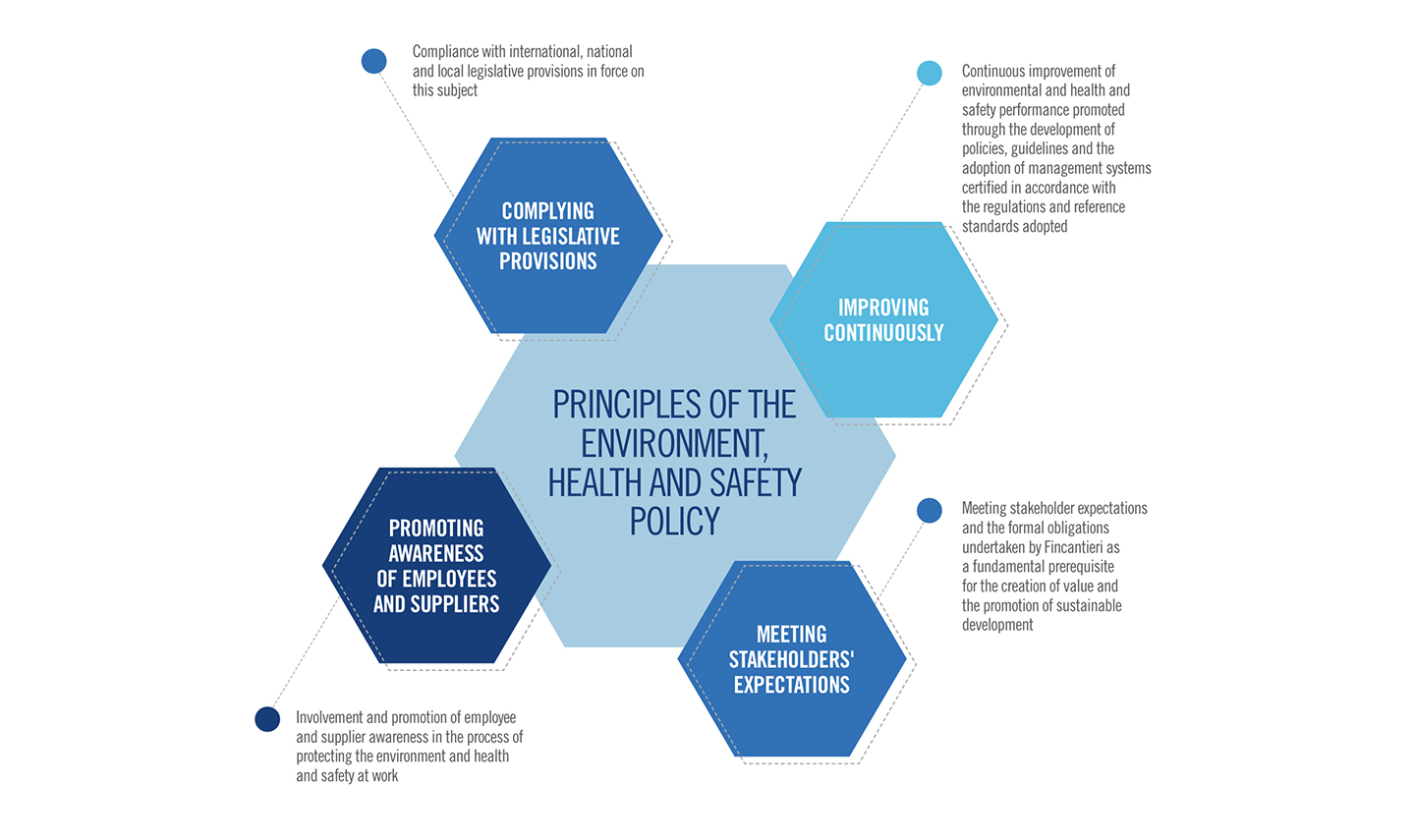 To oversee the more significant environmental aspects associated with our business, Fincantieri is committed to implementing and maintaining an Environmental Management System, certified in accordance with international standard ISO 14001, with the aim of supporting the policy adopted by the Company and giving coherence to the production model.
All the Italian sites have been certified in accordance with ISO 14001.
The adoption of a management system in accordance with the highest international standards involves analysis of the risks associated with the activities of stakeholders, who are consequently involved in the system dynamics.
All the production sites of Fincantieri S.p.A., the US Marinette site, as well as the Braila and Tulcea shipyards in Romania and Vung Tau in Vietnam of the VARD group are certified ISO 14001:2015.
While the other yards operate under the Single Environmental Authorization, the Monfalcone shipyard has been issued with the Integrated Environmental Authorization by the Friuli Venezia Giulia region. This is the first procedure with these characteristics for the company, and is tangible confirmation of the sensitivity towards the territory and transparency in the management of the production process.
WHICH OBJECTIVES DO WE HAVE ON THIS TOPIC?
climate change: 2018-2022 Sustainability Plan objectives and targets


Commitments
Objectives
Description/ Target
Benefits
Status
Timetable

Support for research to improve the analysis and management of risk associated with climate change

Conduct a climate change scenario analysis in compliance with the principles defined by the Task Force on Climate-related Financial Disclosures (TCFD)

Identify potential risks and opportunities for the core business related to climate change in accordance with the recommendations, defined by the TCFD of the Financial Stability Board, which help organisations to identify and communicate the information that the financial community needs to properly assess climate-related risks and opportunities.
This analysis includes a specific focus on the financial impact that climate change may have on Fincantieri's performance and business model

Improve disclosure on:

• The organisation's governance with regard to managing climate change

• Methods for identifying, assessing and managing climate-related risks

• The actual and potential impacts of climate risks and opportunities on the organisation's activities, strategy and financial planning


Proactive analysis in response to increased requests by investors on issues relating to climate change and the Company's exposure to climate risk

To be implemented

2021

Promotion of research projects to develop new solutions for energy savings or reduction of emissions in collaboration with research institutes / universities on issues associated with climate risks

Activate collaborations with universities / research institutes in order to develop new solutions for energy savings or reduction of greenhouse gas emissions

5 projects completed by 2030, of which:

• 1 project by 2022

• 1 project by 2024

• 1 project by 2026

• 1 project by 2028

• 1 project by 2030

Increase / maintain product competitiveness, reduce greenhouse gas

Work in progress

2030
Environmental management: 2018-2022 Sustainability Plan objectives and targets


Commitments
Objectives
Description/ Target
Benefits
Status
Timetable

Action to raise energy efficiency and reduce carbon dioxide (CO2) and other pollutant emissions

Reduction of greenhouse gas (GHG) emissions associated with electricity consumption

Reduce greenhouse gas (GHG) emissions associated with electricity consumption (Scope 2)

- 50% of GHG emissions compared to 2017

Contribute to the fight against climate change (most sustainability ratings require objectives to reduce GHG emissions)

Work in progress

In 2019 GHG emissions from Scope 2 were reduced by 29.4% compared to 2018 and by 32.9% compared to 2017.

2022

Reduction of volatile organic compound (VOC) emissions

Reduce VOC emissions through plant works and a gradual substitution of the products used with other solvent-free products or ones with a lower solvent content.

- 20% of VOC emissions in relation to production volumes (hours worked) compared to 2017 in Fincantieri S.p.A.

Improve workplaces and people's health

To be implemented

2022

Conservation of natural resources, biodiversity, and reduction of environmental impact

Increase the portion of electricity from renewable sources

Purchase electricity produced by certified renewable sources

100% electricity purchased in Italy and Romania

Reduce GHG emissions with benefits for the Company image and competitive advantage on the market

Work in progress

In 2019, about 50% of the electricity needed to satisfy the demand of Italian production sites and companies was purchased and sourced from renewable sources (hydroelectric, wind, photovoltaic) certified with Guarantees of Origin (GO).

2020

Obtain ISO 50001 certification

Obtain ISO 50001 certification which defines the requirements for an efficient management of direct electricity consumption

Obtain ISO 50001 certification for the Italian yards

Make rational use of energy sources, achieving specific reduction targets. Increase transparency and ease of communication regarding management of energy sources, improving image and compliance with Legislative Decree 102/2014

Work in progress

A gap analysis was carried out in 2019 with the aim of assessing the current energy management system against the requirements of the standard and consequently identifying the activities needed in order to obtain certification. The activity involved representatives of the main organizational units concerned with the certification process, who will subsequently play an active role in maintaining it. The process of identifying and formalizing specific working groups (Energy Team) has also been initiated and more than 50 people throughout the Company are expected to be involved.

2021

Consolidation of the proportion of waste sent for recovery and decrease in the total quantity of hazardous waste compared to total waste

Consolidate the share of waste to be recycled and reduce the weight of hazardous waste on total waste

• 2020 - Consolidation of the share of waste to be recycled between 80% and 90% in Italy

• 2022 - 5% reduction of hazardous waste on total waste compared to 2017 in Italy

Reduce the impacts of its activities on the environment

To be implemented

2020-2022

Focus on the type of water withdrawal and its impact in the value chain

Launch a multi-year study for Fincantieri S.p.A., developing the following stages:

• 2020 - Assess water stress areas using the Water Risk Atlas software

• 2022 - Define water consumption in the most sensitive areas

• 2023 - Definition of targets and possible improvement actions

The analysis may be functional to integration as regards environmental certification (e.g. ISO 14001) and consolidates the Company's commitment to combat waste and preserve natural resources in line with the provisions of the Group's Policy on Environmental and Occupational Health and Safety Management

To be implemented

2020-2023

Increase employee awareness of environmental impact and promote virtuous behaviour

Launch the sustainable office project (10 rules)

Launch an initiative promoting protection of natural resources within the Group, clearly defining a set of rules.

The initiative also includes the digitalisation of company documents

100% employees in Italy

Promote the protection of natural resources within the Group and reducing related costs

Achieved

Fincantieri For The Green Future communication campaign has been launched aimed at creating greater awareness and sensitivity on environmental issues and encouraging all employees to make a tangible contribution to safeguarding the environment. The campaign was launched by distributing a brochure to all employees that illustrates the virtuous behaviour to be adopted in everyday life, both in the workplace and at home, and with the symbolic distribution of a gadget (an aluminium water bottle to encourage people to reduce their plastic consumption).

2019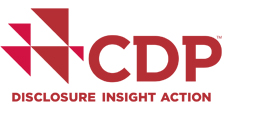 We also believe in the value of transparency in reporting and we are guiding change in this direction. As proof of this, in 2016 we joined the CDP Climate Change Programme, a prestigious British organization whose goal is to improve the management of environmental risks by leveraging information transparency. The programme asks the world's largest companies from all sectors to participate in an annual survey of their approach to managing their environmental risks and of the results they achieved. The extensive database resulting from this survey is made available to stakeholders.
In 2019, the Fincantieri Group obtained the B rating, on a scale ranging from the minimum D to the maximum A, which testifies to the effectiveness of the actions it has taken in the fight against climate change.