In Fincantieri, we grow with our people. We are a Company where everyone makes their ideas, practices, skills and actions available to everyone else, where there are international and multidisciplinary exchanges and dialogue, and where we share risks and achievements and create value, together.
Our idea of putting people at the core led to the launch in 2016 of Fincantieri for the Future: a change management project that envisages an organic path of change, which actively involves all employees, promoting information exchange and transparent communication, with the aim of increasing the sense of belonging and cohesion among employees, improving the workplace and the climate in the Company. The Group has set up a channel of constant listening and confrontation, which promotes the collection and sharing of ideas, opinions and suggestions from people, even through the distribution of surveys.
The Group's People Strategy, defined over the years through the One Vision project, an ambitious HR transformation program at a global level, is developed precisely in this direction. It aims to achieve successful performance and design a sustainable future through continuous investment in improving the employee experience and constant enhancement of diversity, demonstrating even further that inclusiveness is an essential value for complex organizations.
As part of the One Vision project, in 2021 we defined our Employee Value Proposition, Fincantieri, People Ahead, which represents the link between employer branding strategies and the specific actions of managing, training and developing our people, i.e. that set of priorities shared between the Company and its employees.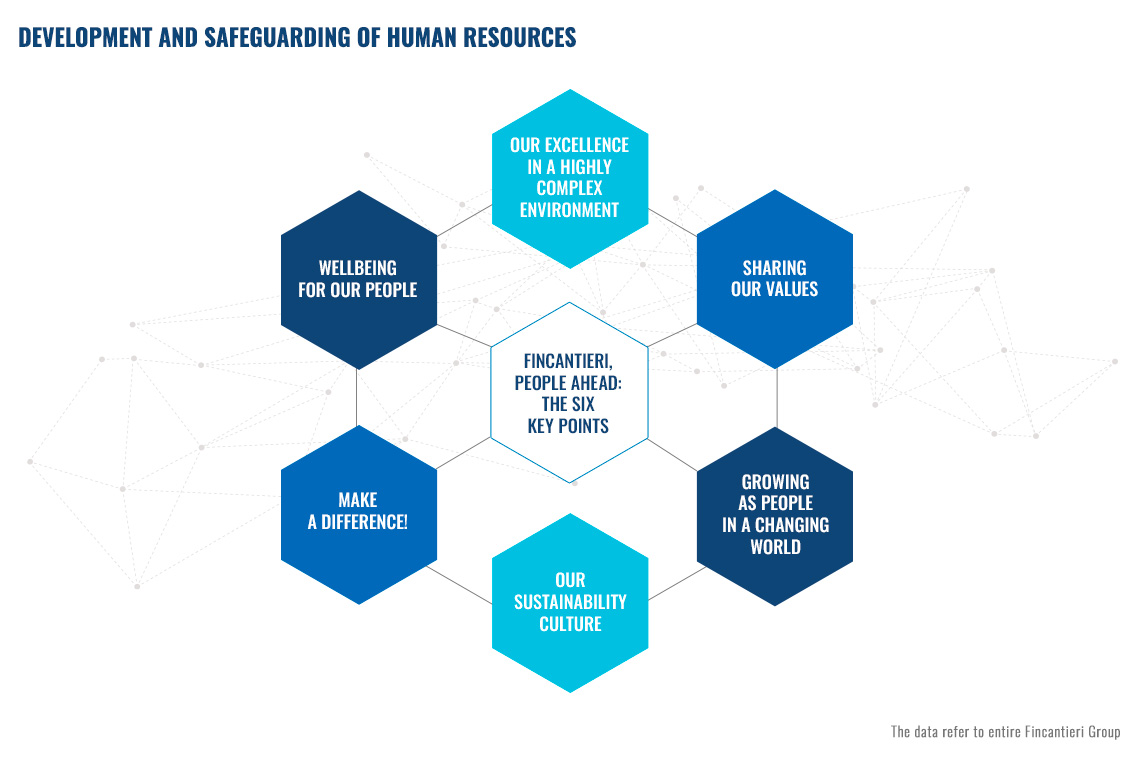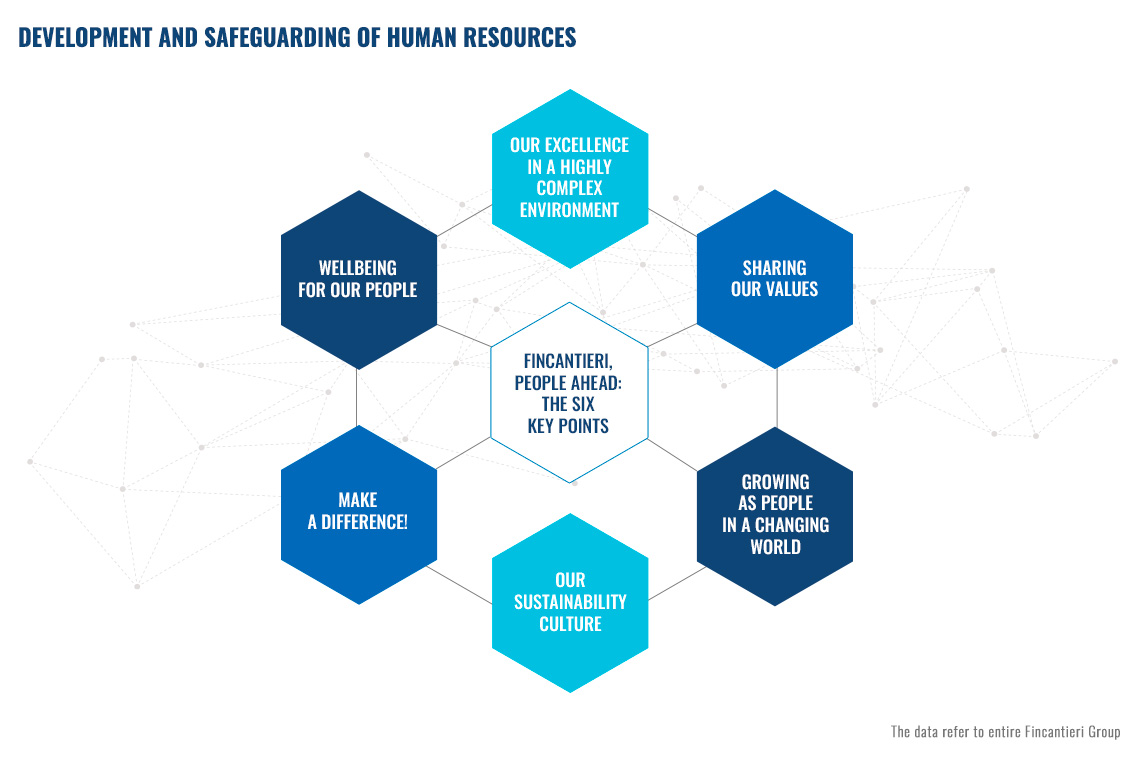 Our commitment to the effective implementation of the Group's People Strategy was recognized in 2021 by the Top Employers Institute, a company that has certified the quality of people management and development processes as well as the work environment, including Fincantieri in the pool of companies certified as Top Employer Italy 2022.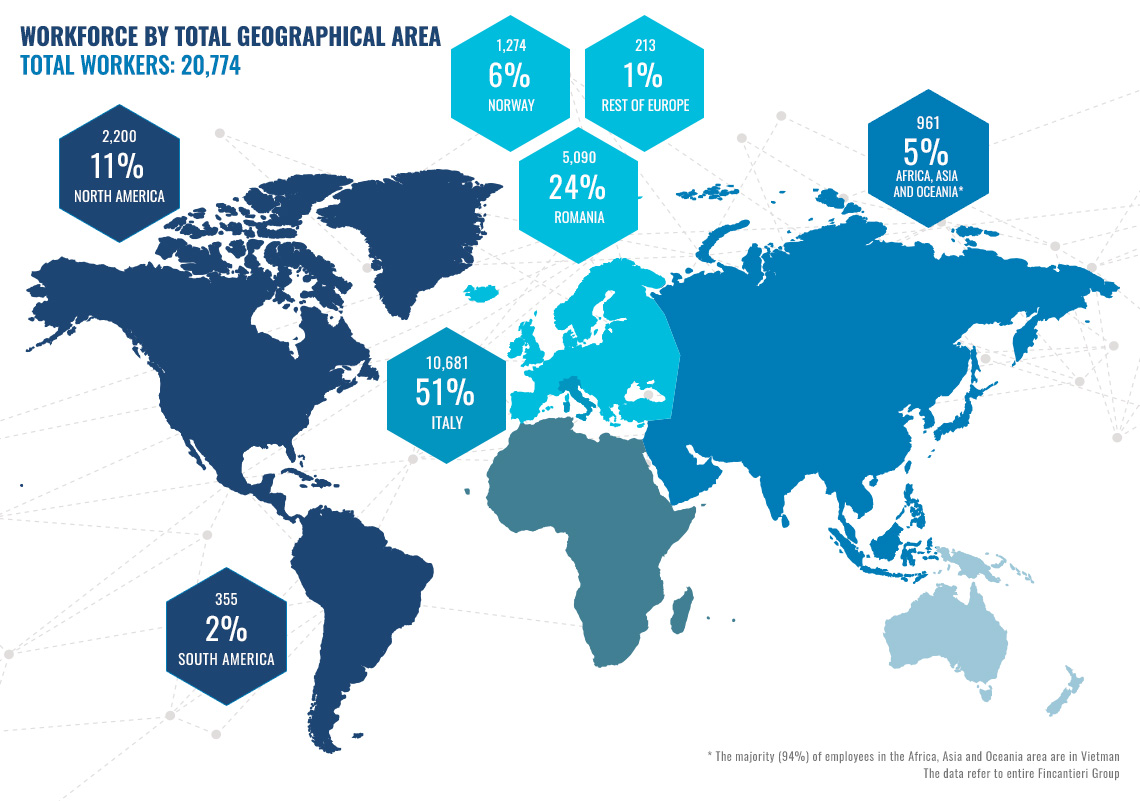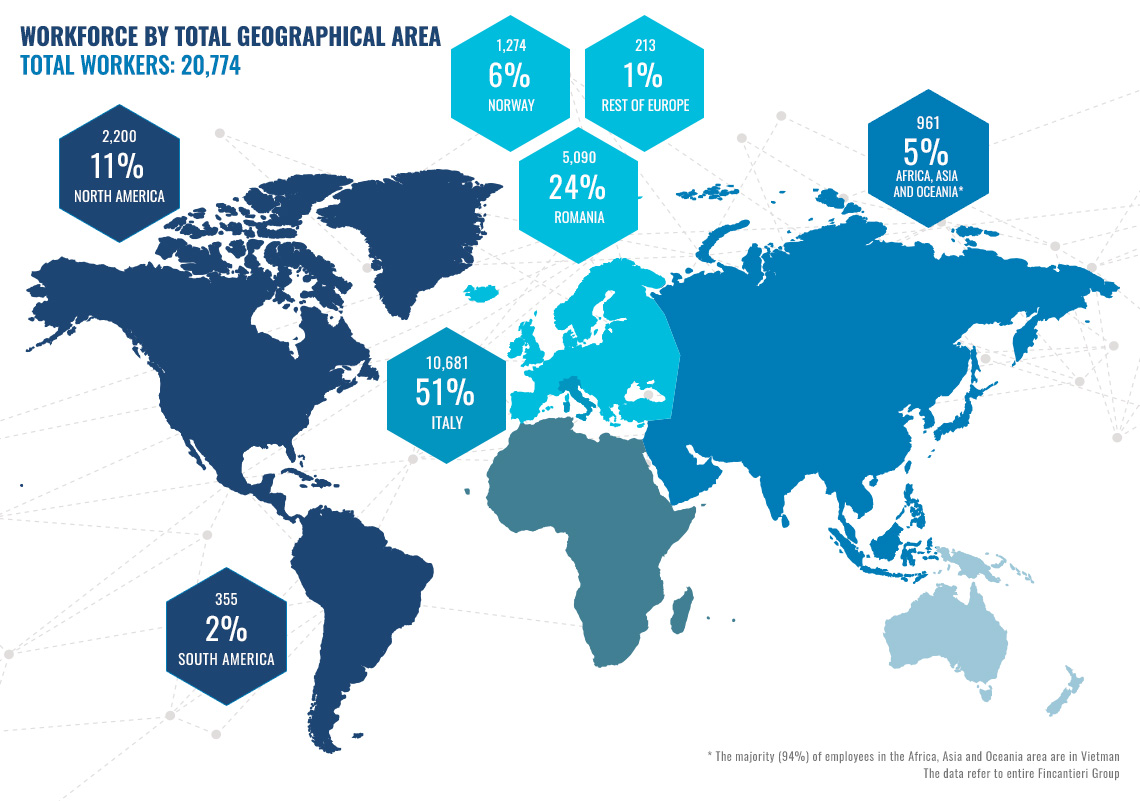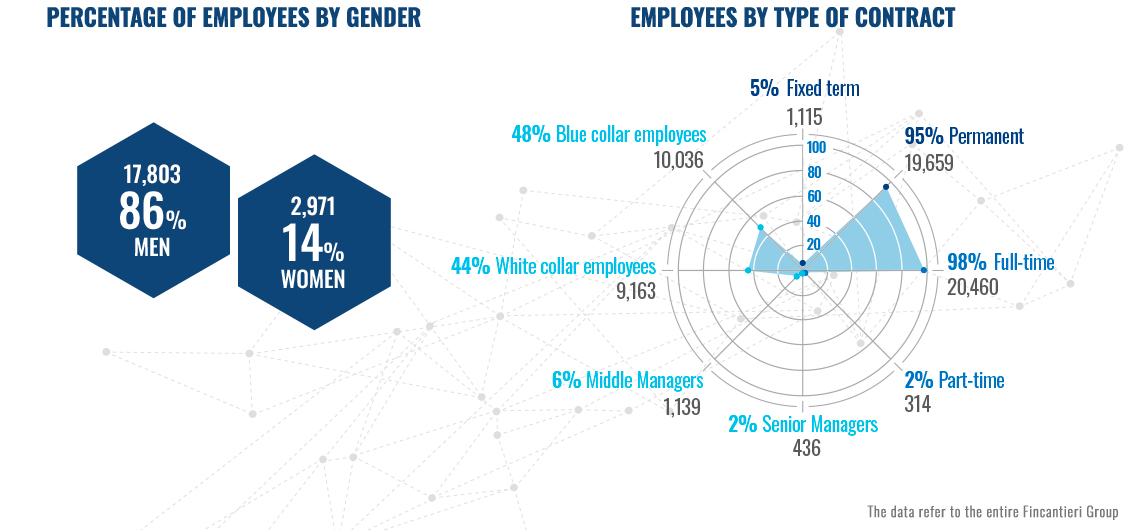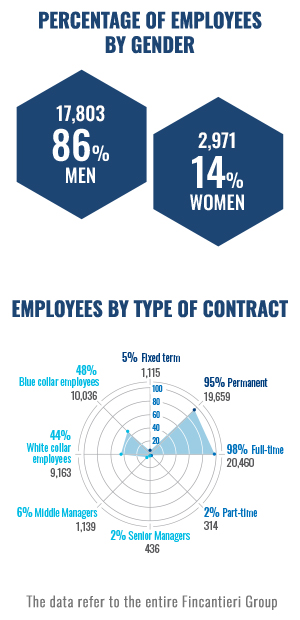 WHICH OBJECTIVES DO WE HAVE ON THIS TOPIC?
DEVELOPMENT AND SAFEGUARDING OF HUMAN RESOURCES: 2018-2022 Sustainability Plan objectives and targets


Commitments
Objectives
Description/ Target
Benefits
Status
Timetable

Promotion of growth, training and enhancement of human capital

Include a sustainability module in the Fincantieri Corporate University training programs

Implement training modules on sustainability, as part of the training given by the Fincantieri Corporate University (Academy, Competency Management, PM for Staff, PM Advanced)

Include 1 module on sustainability per course

Raise staff awareness of sustainability issues

Achieved

The Corporate University's training programs include a module dedicated to sustainability issues.

2020

Promoting the hiring of under-35s

Promote young people's employment using multiple collaboration channels with Schools and Universities. Promote activities aimed at directing young people's choices of studies in line with the demands of the employment market (graduate programs)

Keep the percentage of hires of under-35s above 40% of all new hires per year in Italy

Encourage generational turnover and create the right mix of professional skills within the workforce, developing the required skills

Work in progress

In 2021, in Italy alone there have been 778 hires, 60% of whom are under the age of 35.

2022

Industrial relations based on dialogue and listening to protect jobs and employment

Draw up a policy or guidelines for the management of any business restructuring and reorganization

Draw up a policy or guidelines that strengthen commitment and contain the lines of action that the Company undertakes to implement in the event of company restructuring and reorganization in Italy

Improve risk management, increase transparency, make Top Management aware of the issue and minimize intervention time

Achieved

In 2021 we drew up a Guideline for the management of any business restructuring and reorganization within the framework of a consolidated participatory model based.

2021