The Group adopted the Policy of Human Rights – Commitment for the respect of human rights and diversity. This document, approved by the Board of Directors of Fincantieri S.p.A., confirms our commitment to human rights defense as declared in the Code of Conduct, the Charter of Sustainability Commitments and the Sustainability Plan. We are committed to respecting the four International Labour Organization (ILO) core labour standards, as set out in the Declaration on Fundamental Principles and Rights at Work:
freedom of association and the effective recognition of the right to collective bargaining;
the elimination of all forms of forced or compulsory labour;
the effective abolition of child labour;
the elimination of discrimination in respect of employment and occupation.
The Policy represents Fincantieri's public commitment to adopt and share a collective awareness about human rights as defined in the principles reported in the document.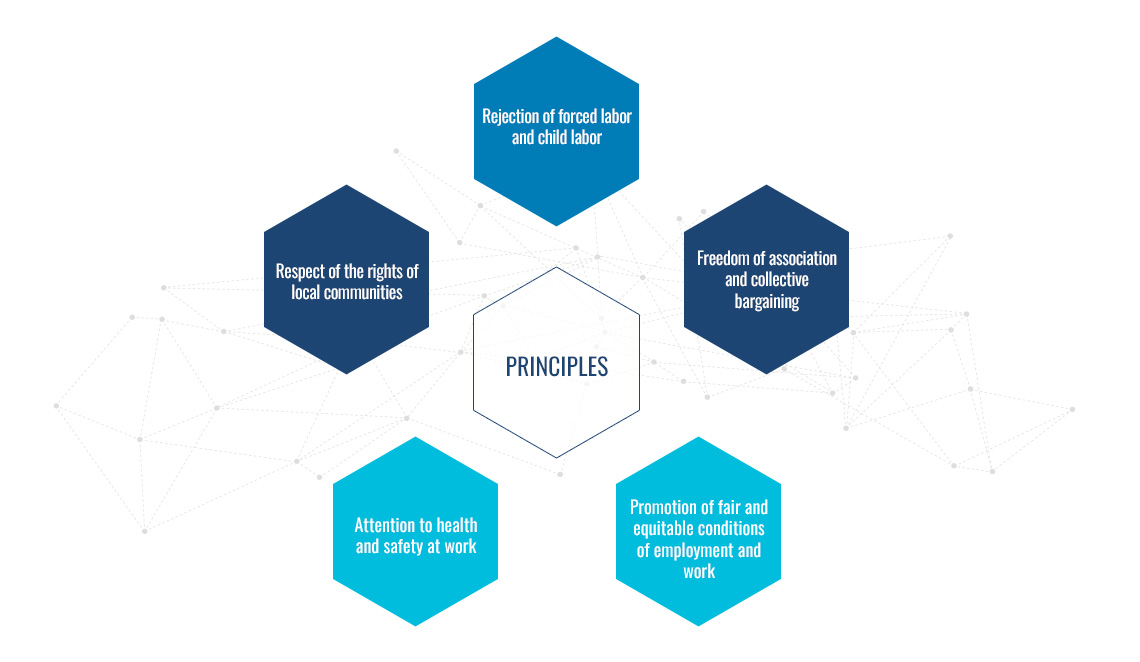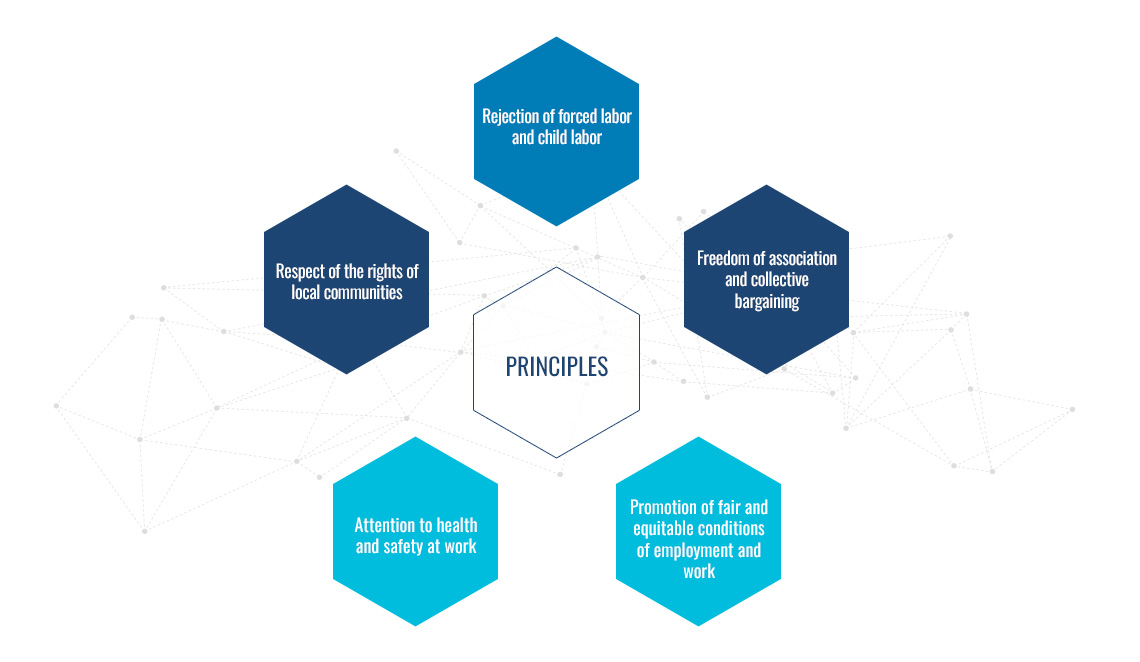 The Policy contains a focus on Diversity and Inclusion, strategic factors for the Company competitive advantage and people development, on which the Company is investing.
As a matter of fact, we have set out on a path to define our Diversity & Inclusion (D&I) Management model, an open model aimed at enhancing every element of diversity as a source of enrichment and growth for the organization. The person, along with his or her subjectivity, features, experience and culture, is at the heart of the system. The D&I model is developed by engaging people and also through the active participation of the Fincantieri "Network of Facilitators".
Fincantieri also operates in countries like Vietnam, where human rights might be more at risk. The Vietnamese shipyard has been certified in compliance with SA 8000. The model guarantees a virtuous process aimed at ensuring the continuous respect of human rights.
We respect the dignity of everyone and we offer equal opportunities to all our employees, refusing every form of discrimination based on ethnicity, color, gender, age, disability, sexual orientation, political or religious opinions, nationality and social origin. We recognize that diversity, at all levels, is a value to be cultivated in our organization in order to consolidate our aim to "put people at the core" and better address the challenges posed by the global market.
Fincantieri operates in a global context in which different nationalities contribute to nurturing an ever more open corporate culture. We recognize the value of this context and we cultivate it with recruiting and job rotation policies aimed at promoting the sharing of know-how and best practices, as well as the integration and inclusion of people.
In terms of gender diversity, the Group has recorded an increase in the number of women employees in recent years, although there are objective conditions related to the typical characteristics of shipbuilding. For this reason, we are pleased to have been named among the 200 best employers for women in Italy according to the German Institute for Quality and Finance in Italy's Best Employers for Women, a further recognition that rewards our efforts in this direction.
With the aim of providing women with particular support during maternity, as well as new parents, for special cases (health needs or fragility) or when there are extraordinary events, the Company considers the use of smart working as a flexibility tool. Furthermore, also considering the positive experience in implementing the smart working tool during the health emergency, the Company signed an agreement with the National Trade Unions in order to implement agile work in a structural way.
The Company's focus on work-life balance is put into practice through various initiatives: there are special arrangements with day care centres, seaside or mountain resorts during the summer, daytime summer camps and after-school activities for the children of employees.
We are constantly working to promote the insertion of people with different physical and psychological abilities, in line with the characteristics of shipbuilding and the risk profiles associated with the industry. 481 people with disabilities work in the Fincantieri Group.
Age diversity also plays an important role and is a value for our Company. This is because constant dialogue between people from different age groups combines different experiences, helping the Group to grow and improving its capacity to compete in the market.
WHICH OBJECTIVES DO WE HAVE ON THIS TOPIC?
Human Rights: 2018-2022 Sustainability Plan objectives and targets


Commitments
Objectives
Description/ Target
Benefits
Status
Timetable

Commitment to creating the socio-economic conditions to ensure respect for human rights throughout the value chain

Conduct annual audits to assess and monitor the most critical suppliers in terms of human rights, health and safety and the environment

Conduct annual audits at suppliers' premises on behalf of the organization (second party audit) a tool for an informed management of the supply chain

100% of Fincantieri S.p.A.'s priority suppliers (120) by 2023, of which at least 40 per year.
The number of audits to be conducted will be strictly linked to the emergency situation due to the COVID-19 pandemic

Ensure that the level of compliance is aligned with Fincantieri's standards and observance of a sustainable supply chain

Work in progress

In 2020, 6 sustainability audits were carried out at strategic suppliers for human rights, environment, health and safety aspects. The decrease in audits compared to the previous year is due to the COVID-19 pandemic and the resulting travel restrictions, preventing staff from going to supplier premises.

2023
Diversity and equal opportunity: 2018-2022 Sustainability Plan objectives and targets


Commitments
Objectives
Description/ Targe
Benefits
Status
Timetable

Promotion of programs offering equal opportunities to all employees in order to promote diversity and inclusion within the Group

Commitment to human rights and diversity

Draft a policy on human rights and diversity which will enable a set of principles and rules to be defined, allowing the Group to improve commitment to these aspects

• Access new markets and develop employer branding

• Protect against risks

• Promote equality

• Promote salary equality

• Ensure national and European compliance

Achieved

The Fincantieri Group Policy of Human Rights – Commitment for the respect of human rights and diversity has been drawn up and it has been approved by the Board of Directors of Fincantieri S.p.A., in order to define principles and rules that guide the strategies, activities and initiatives of the entire Group towards respect for human rights and the promotion of diversity and inclusion.

2019

Develop a training program for facilitators on sustainability issues and in particular on diversity and its promotion in the Company

Develop a training program for facilitators on sustainability issues and on their promotion in the Company, as part of the Fincantieri for the Future project

At least 40 facilitators out of 70 trained in Italy

Disseminate widely and naturally new behavior and an open mentality also on sustainability issues

Achieved

In 2020, 58 facilitators in Italy took part in a training course aimed at heightening awareness on diversity and equal opportunities, on knowing how to respect, integrate and enhance the diversity and uniqueness of each person and on all those filters with which every individual observes the surrounding reality and on the basis of which assesses, judges, takes decisions and adjusts their behaviour.

2020

Conduct a gender pay equality survey

• Conduct a survey on gender pay equality targeted on homogeneous groups by task and performance evaluation

• Promote interventions on any misalignments identified

Pay survey for Fincantieri S.p.A.

Optimize business costs and employee benefits

To be implemented

2021

Define an action plan to increase employee awareness of diversity and inclusion

Define an action plan with training programmes and specific projects on diversity and inclusion

Definition of the action plan for Fincantieri S.p.A.

• Increase employee awareness of diversity and inclusion

• Protect against risks

• Access new markets and develop employer branding

Work in progress

2021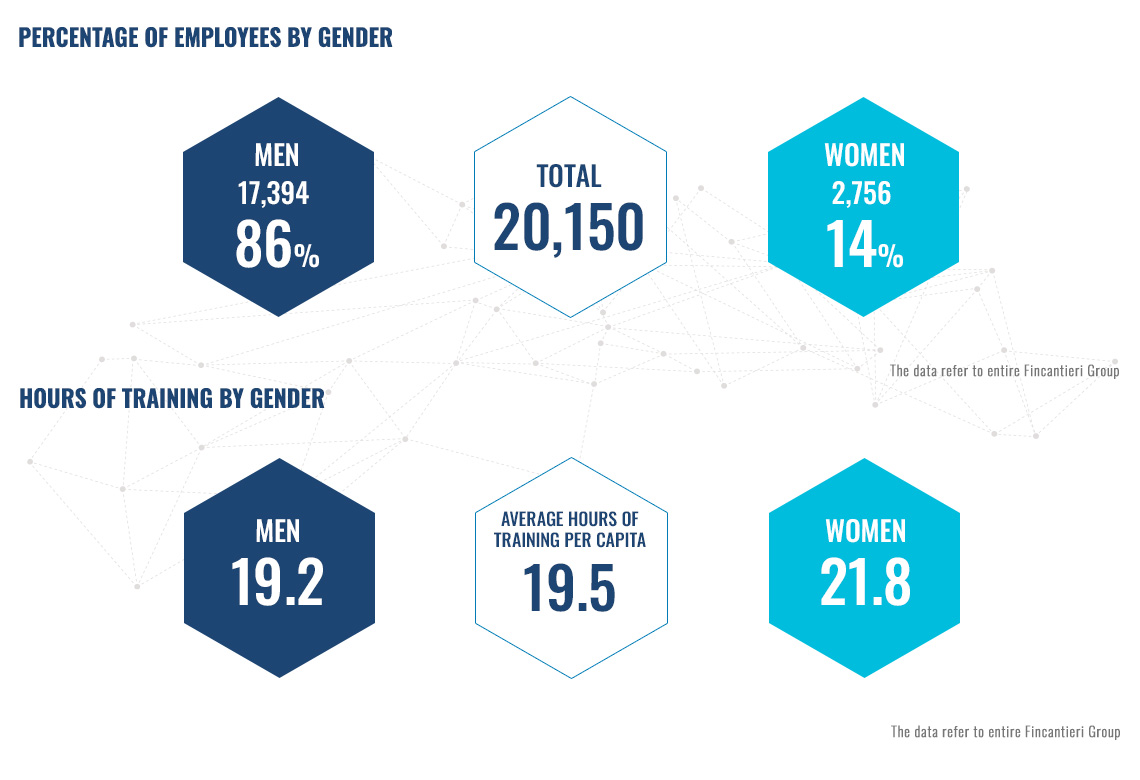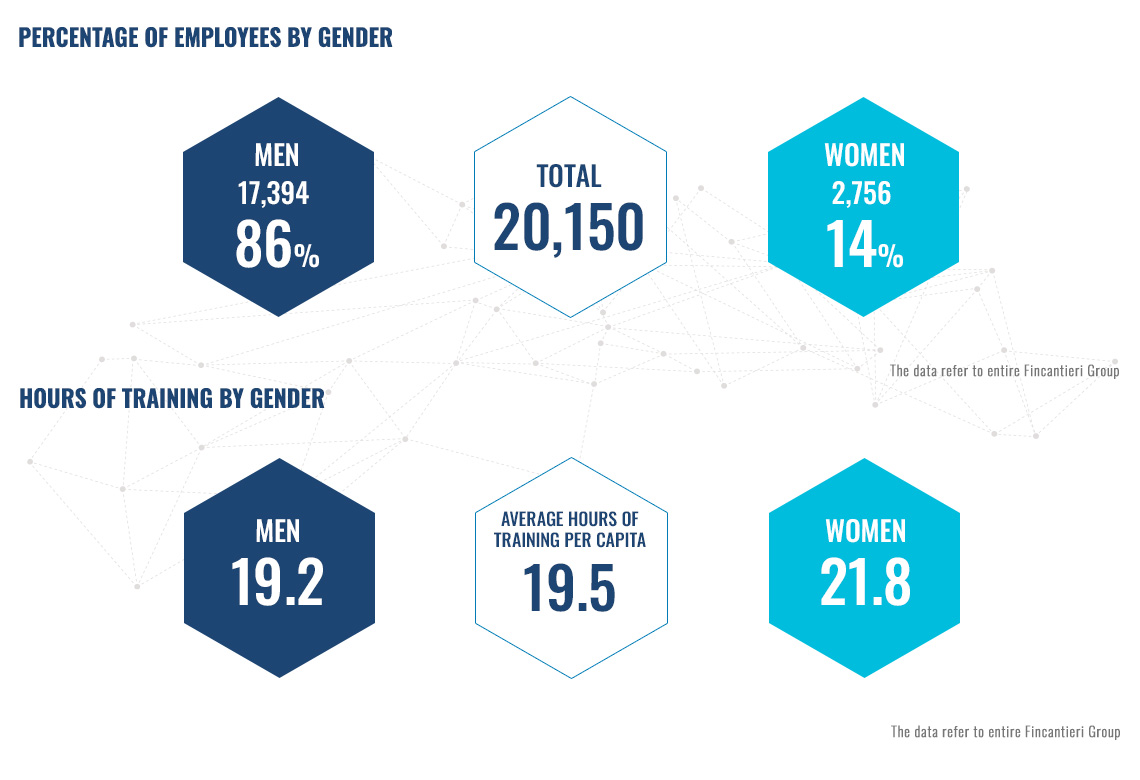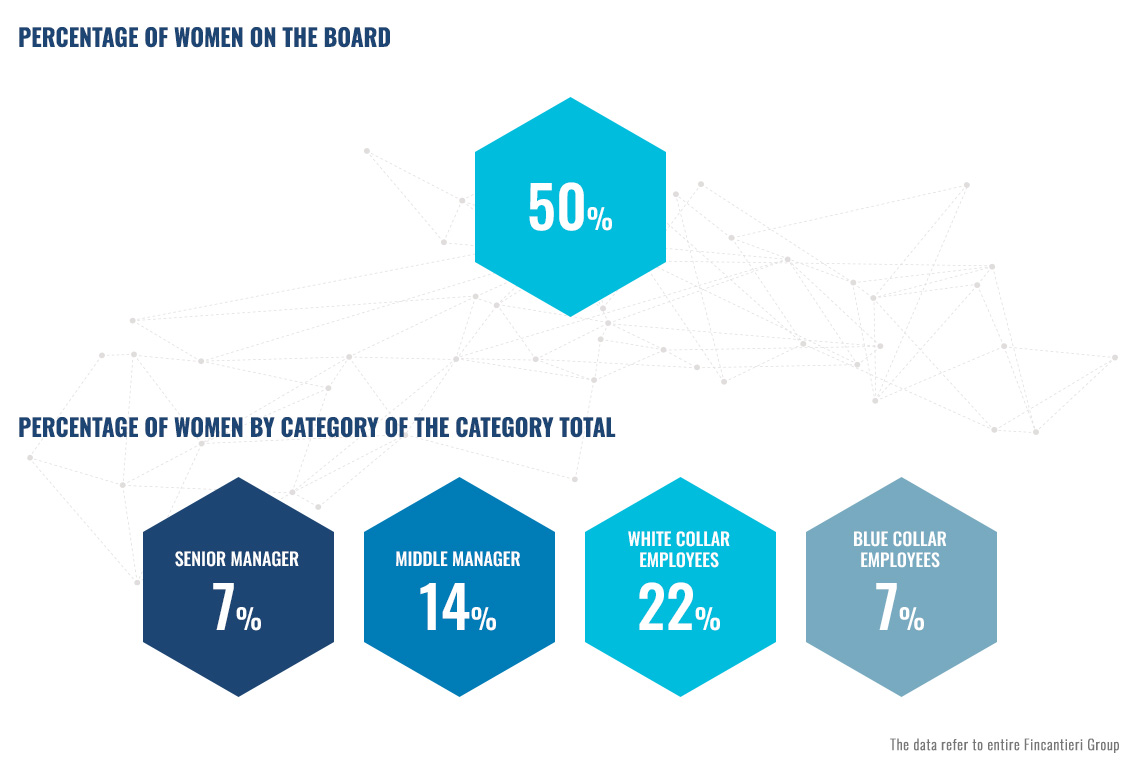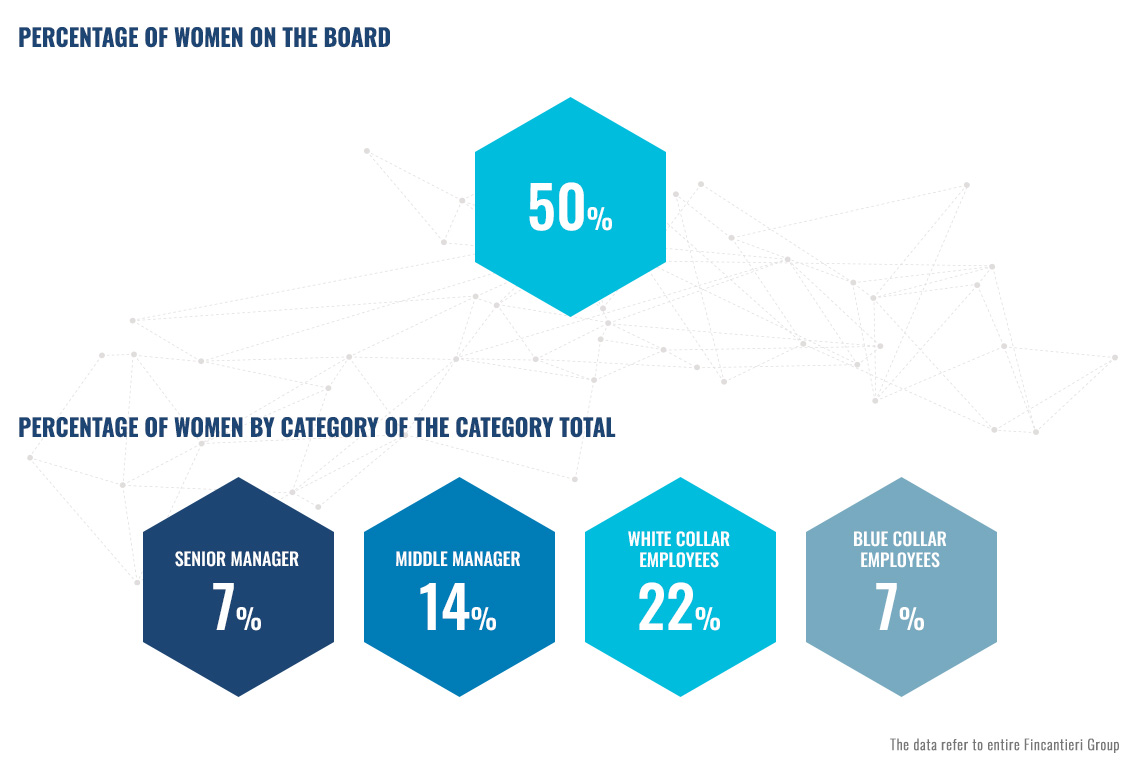 To prevent discrimination, affirm and ensure respect for equal opportunities, the American companies Fincantieri Marine Group and Fincantieri Marine Systems North America Inc. and the VARD group have organized specific training activities aimed at raising greater awareness of and sensitivity to diversity issues.