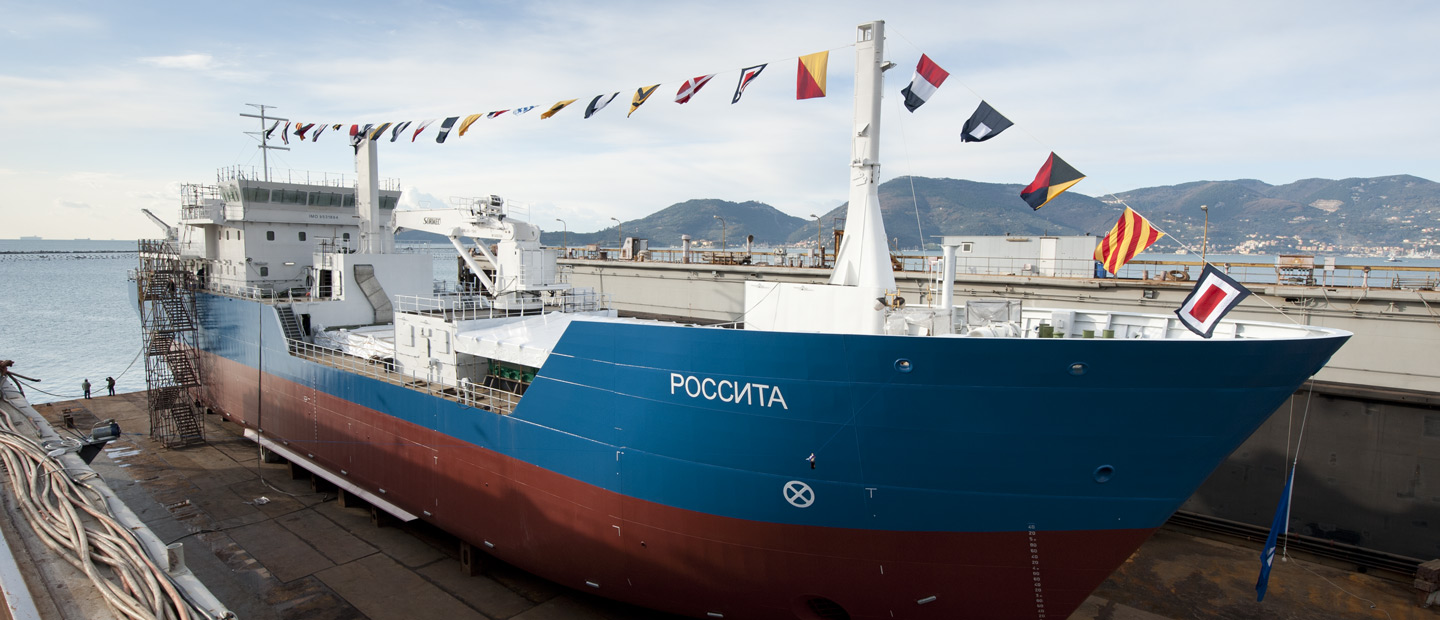 Spent Nuclear Fuel
Special Ships
Purpose of the ship is to transport Spent Nuclear Fuel (SNF) and Radioactive Waste (RW) mainly using TK-18 containers, but also using other type packages, including 20 ft ISO containers, from bases and ship-repair yards to points of reloading to railway. The ship is designed to the most stringest international rules and is compliant with the International Code for the Safe Carriage of Packaged Irradiated Nuclear Fuel, Plutonium and High-Level Radioactive Wastes on board Ships (INF Code).
Ne sono un concreto esempio la duplicazione degli impianti all'interno delle stive di carico in modo che siano autonomi e separati dal resto dell'impiantistica, la presenza di due locali di propulsione separati tramite una paratia stagna longitudinale, l'adozione di un doppio scafo nella zona destinata al trasporto del carico. Inoltre, lo schermo di protezione delle stive e il relativo sistema di monitoraggio di tutta l'area interessata al trasporto del carico sono stati progettati nel rispetto delle più stringenti normative in materia di sicurezza nucleare.
| | |
| --- | --- |
| Commissioning | Atomflot |
| Rossita | 2011 |
Length between perpendiculars
Endurance (Dry Provisions)
Endurance (Other Provisions)
ENERGY AND PROPULSION SYSTEM
4 Generating sets IFM L1306T2
2 Main Diesel Engines IFM V1716T2 MLH
1 Emergency Generating set L1306T2
Compliant to RMRS ARC 4 ice class
Compliant to INF Code, IBC Code, CSS Code
Compliant to OSPORB-99/2010 (Primary sanitary rules of radiation safety provision)
Compliant to NRB-99/2008 (Radiation safety standards)
Compliant to SP-SATO-2011 (Sanitary Rules. Radiation safety provision while design, construction, operation and disposal of nuclear ship)
Ship's Main Zones: CZ category I, CZ category II, OZ.
Two biologically shielded modular Cargo Holds in order to secure TK-18, TUK-108, NZK-150-1.5P, OVCh casks and 20ft ISO containers
One cargo crane 45 t @ 15m with automatic Heeling System
One Free Fall life boat System