Our mission is to operate in a framework of fair competition with honesty, integrity, fairness and good faith, respecting the legitimate interests of all our stakeholders, shareholders, employees, customers, suppliers and local communities.
This approach is part of a broader vision in which our company actively promotes Social Responsibility and a sustainable supply chain, integrating a focus on social and environmental issues within our strategic guidelines.
Our suppliers are an integral part of this approach and they are asked to share our Purchasing Policy, the primary goal of which is to communicate the Group's commitment to strengthening the development of solid and long-lasting relationships with our partners so that we can pursue a common goal of sustainable development together.
The core aspects of our Purchasing Policy are:


Awareness of the supply chain's strategic nature and the need to coordinate a vast and varied network of suppliers lead us to seek long-term partner relationships that are based on transparency, collaboration and mutual respect.
For this purpose, Fincantieri has drawn up the Suppliers' Code of Ethics approved by the Board of Directors of Fincantieri S.p.A., a document through which the Group undertakes to transmit to its supply chain the values, principles and responsibilities enshrined in its Code of Conduct, the Charter of Sustainability Commitments and Sustainability Plan.

The objective is to develop a responsible and sustainable supply chain, by defining guidelines and behaviors that suppliers have to adopt in order to pursue a development that integrates competitiveness, environmental sustainability and social responsibility, inspired by the three pillars of Sustainability:


The importance of the relationship with suppliers is underlined by the fact that our product is highly customized, since it is designed and engineered to the specific needs of the individual customer.
This entails active management of make-or-buy procurement strategies for every single phase of development and implementation of the naval job, while maintaining constant synergy with our partners in the continuous search for high value added solutions.
As regards the shipyard, approximately 80% of the finished product is made with the contribution of suppliers: we work de facto as a system integrator, taking responsibility for the shipbuilding project as a whole.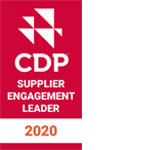 The involvement of suppliers in sustainability issues is therefore crucial, a commitment that has been recognized and rewarded by the prestigious British organization CDP (Carbon Disclosure Project) through the assignment of an A score in the Supplier Engagement Rating (SER), which assesses the effectiveness with which companies are involving their suppliers in the fight against climate change.
INITIATIVES TO HANDLE THE COVID-19 PANDEMIC
Although the outbreak of the COVID-19 pandemic caused the temporary suspension of production activities at Fincantieri's shipyards, it did not harm relations with suppliers.
We are committed to supporting our supply chain from a financial perspective as well. With the aim of facilitating access to credit for our suppliers, we have entered into a series of reverse factoring agreements with some of the leading Italian financial operators, providing the supply chain with the possibility of monetizing receivables due from the Parent Company and/or its main subsidiaries before their natural due date, at predefined economic conditions.
WHICH OBJECTIVES DO WE HAVE ON THIS TOPIC?
SUSTAINABLE SUPPLY CHAIN: 2018-2022 Sustainability Plan objectives and targets


Commitments
Objectives
Description/ Target
Benefits
Status
Timetable

Promotion and support of a responsible supply chain that shares our values and is based on long-lasting relationships founded on integrity, transparency and respect

Code of Ethics for suppliers

Draft a document containing a set of rules, principles and conduct in terms of sustainable procurement, in compliance with international standards and best practices

Develop a sustainable supply chain, improve positioning on the market and image.

Guarantee coverage of risks associated with sustainability

Achieved

Fincantieri has drawn up the Suppliers' Code of Ethics approved by the Board of Directors of Fincantieri S.p.A., a document that defines the values and principles of conduct that suppliers must refer to and adopt in order to pursue a development that integrates competitiveness, environmental sustainability and social responsibility, capable of establishing a long-term partnership based on integrity, honesty and mutual transparency.

2019

Organise meetings and opportunities for dialogue with suppliers as well as training on sustainability issues

Send a questionnaire on sustainability issues (and organise meetings) to suppliers identified as priority/strategic

Send the questionnaire to 100% of strategic suppliers

Increase engagement with suppliers in order to identify best practices and common initiatives on sustainability issues

Achieved

During 2019, we organized our first sustainability meeting session with the participation of 23 strategic suppliers. Sustainability has steered these meetings, during which topics such as the Sustainability Plan and related objectives were presented, with particular emphasis on those concerning the supply chain. Moreover, in order to increase our partners' awareness of and involvement in social and environmental issues, a fact-finding questionnaire was sent out in 2019 to a panel of 75 suppliers considered significant, with the aim of studying the actions and the governance model adopted.

2019

Development of the supplier engagement path through workshops on sustainability issues

Organize workshops involving a panel of strategic suppliers to share a path of sustainability, training and discussion on ESG issues


At least 40 suppliers out of 200 considered strategic in terms of presence in the Supplier Register and turnover developed with Fincantieri S.p.A.

Share and develop common initiatives on sustainability issues. Identify existing best practices with a view to embarking on a shared growth path

Achieved

In 2020, our supplier engagement continued resulting in a remote workshop on sustainability issues that involved the participation of 54 strategic suppliers.

2020

Implementation of an action plan to promote the dissemination of the Suppliers' Code of Ethics

Define an action plan to disseminate the Suppliers' Code of Ethics that will follow these stages:

2020:

• Launch the request for suppliers' of Fincantieri S.p.A. to adhere to the Suppliers' Code of Ethics

• Review of sustainability audit checklists for the implementation of the criteria on compliance with the Suppliers' Code of Ethics

2021:

• 1st half: Testing on a sample of 5 suppliers audited using the revised sustainability audit checklists

• 2nd half: Monitoring the adoption and verification of compliance with the Code by 100% of audited suppliers

100% active suppliers of Fincantieri S.p.A.

• Ensure the dissemination of the principles, values and responsibilities of the Company through the acceptance and adoption of the Code

• Contribute to the development of a responsible and sustainable supply chain

• Ensure Environmental, Social and Governance (ESG) risk coverage

Achieved

In 2020, were completed the phases of of asking Fincantieri S.p.A. suppliers to comply with the document and the revision of the sustainability audit checklists for implementation of the relevant criteria, which will be monitored during 2021.

2020-2021

Launch of the Sustainable Supply Chain project

Launch a Sustainable Supply Chain project in order to integrate sustainability criteria into the supply chain and ensure adequate risk management

The activity will be divided into the following stages:

• Evaluation of processes based on ESG criteria within the quality and supplier management systems

• Comparison with market benchmarks

• Identification and mapping of ESG risks in the supply chain

• Development of a system to collect information and mapping of ESG certifications

• Definition of supplier monitoring KPIs, also according to a sustainability logic

• Identification of areas of action and preparation of the improvement plan

100% of strategic suppliers registered in the Supplier Register of Fincantieri S.p.A.

• Identify and manage ESG risks in the supply chain

• Monitor any critical aspects of the supply chain through specific KPIs

• Mitigate the reputational risk associated with supply chain management

• Increase the supplier base's level of knowledge regarding to sustainability issues

Work in progress

2021

Deliver a training course on sustainability and responsible procurement principles to employees who interact directly with suppliers

Develop an e-learning training module on sustainable procurement for employees who interact directly with suppliers in Italy

100% of Italian buyers

Raise awareness and train staff on sustainability issues in order to improve relations with suppliers on these specific topics

To be implemented

2022
Human Rights: 2018-2022 Sustainability Plan objectives and targets


Commitments
Objectives
Description/ Target
Benefits
Status
Timetable

Commitment to creating the socio-economic conditions to ensure respect for human rights throughout the value chain

Conduct annual audits to assess and monitor the most critical suppliers in terms of human rights, health and safety and the environment

Conduct annual audits at suppliers' premises on behalf of the organization (second party audit) a tool for an informed management of the supply chain

100% of Fincantieri S.p.A.'s priority suppliers (120) by 2023, of which at least 40 per year.
The number of audits to be conducted will be strictly linked to the emergency situation due to the COVID-19 pandemic

Ensure that the level of compliance is aligned with Fincantieri's standards and observance of a sustainable supply chain

Work in progress

In 2020, 6 sustainability audits were carried out at strategic suppliers for human rights, environment, health and safety aspects. The decrease in audits compared to the previous year is due to the COVID-19 pandemic and the resulting travel restrictions, preventing staff from going to supplier premises.

2023
Supply Chain Management of Fincantieri in Italy
Suppliers by product category
VALUE OF ORDERS ISSUED
BY CATEGORY IN THOUSANDS OF EUROS
PRODUCT CATEGORY
2019
2020
Turnkey
1,583,443
1,384,859
Supply
1,304,499
1,208,793
Contracts
525,568
431,498
Services
556,483
568,219
Investments
202,064
131,169
Engineering
48,044
33,885
Total
4,220,101*
3,758,423**
Suppliers by geographical area
VALUE OF ORDERS ISSUED
BY CATEGORY IN THOUSANDS OF EUROS
COUNTRY/GEOGRAPHICAL AREA
2019
2020
Italy
3,468,099
2,982,972
Rest of Europe
684,998
682,624
North America
40,368
74,131
Asia
22,651
7,870
Oceania
131
1
South America
3,824
10,734
Africa
30
91
Total
4,220,101*
3,758,423**
* Intercompany Value 2019: 409,658 thousands of euros.
** Intercompany Value 2020: 462,861 thousands of euros.
The data refer to Fincantieri S.p.A. and to the Italian subsidiaries.
Development, growth and efficiency of our supply chain start immediately during the scouting process, that evolves through the registration on the e-procurement system, Fincantieri Suppliers.
The relationship between the supplier and the procurement function of Fincantieri is strengthened during the qualification phase, which follows a documented procedure in order to guarantee impartiality and equal opportunities for all the parties involved.
Furthermore, Fincantieri S.p.A. monitors the supply chain beginning from the evaluation of the strategic suppliers for their qualification carried out at least every 3 years. The oversight is continuously ensured by different monitoring actions which allow the identification of eventual weaknesses of the suppliers.
Following this strategy, the Company tracks the suppliers activity using a life cycle management approach to reduce the environmental and social impact of a product or service over its entire lifetime to a minimum.
In particular, sensitivity towards and respect for the environment are spread along the whole production chain, and this has led to increasing exchanges of information and documents with suppliers.
On this point, collection of environmental and social information is active during the pre-qualification stage, such as the possession of environmental, health and safety at work or social responsibility certifications.


Supplier qualification and monitoring process
Management and the continuous improvement of a pool of trusted suppliers are essential in order to achieve the goals we have set for ourselves in economic and sustainability terms.
Fincantieri recognises that the supplier base is a significant asset for the entire company, and as such it should be valued and protected.
This is why we have developed a stringent qualification and performance monitoring process for strategic suppliers, based on the evaluation of economic, technical, reputational, social and environmental aspects.
We believe that the selection of innovative and reliable suppliers, willing to build together a common success, starting from a high value-added, commitment and flexibility are the essential requirement for a lasting relationship.


Of the 817 qualified strategic suppliers at the end of 2020, 94% were subject to an evaluation, with the following results:
- 83% satisfactory;
- 16% with some gaps that can be resolved by themselves;
- 1% with serious issues, for which the adoption of an improvement plan or replacement is planned.
We have a stringent performance monitoring process for suppliers that allows them to maintain their "qualified" status and manages any critical issues, which are examined through cross-involvement within Supplier Oversight, the body that gathers the different functions and departments and takes decisions based on their examination. Prominence is given to issues related to health and safety, the environment and protection of labour rights, with specific focus on ethical and reputational aspects during both the qualification and the monitoring phases.
Evaluation of certain fundamental aspects, such as the technical/professional suitability of the company, the regularity of contributions and remuneration of employees, and the existence of a structure dedicated to safety at work, takes place during both the pre-qualification document collection phase and the quality inspection phase at the supplier's premises, as well as during entry in our shipyards.
Fincantieri makes business integrity and the ethical and reputational aspects that accompany it a constant guideline, operating in a framework of fair competition with honesty and fairness and respecting the legitimate interests of all the actors involved.
On this point, Fincantieri is aware that corporate reputation is a strategic asset that should be valued and protected, also so as not to compromise the trust placed in it by its stakeholders. Therefore, Fincantieri in compliance with a risk intelligence based approach throughout the onboarding or re-onboarding processes, ensures that its strategic supply chain leans towards more extensive compliance with regard to anti-money laundering, counter-terrorism, anti-corruption and sanctions at international level.
In this regard, where the relationship is considered to be a greater risk, Fincantieri conducts enhanced due diligence to mitigate the increased risk and, as a risk profile may change over time, could activate ongoing monitoring.
Furthermore, in order to prevent any possible infiltration of organized crime in the contract award phase, in capital expenditure and in production activities, the Group has established a stronger cooperation with the local competent Prefectures, stipulating Legality and Transparency Protocols, which since 2017 have merged into a National Protocol.
All levels of the supply chain are asked to share this approach and to maintain business relations based on lawfulness, transparency and fairness.
Fincantieri Marine Group supply chain
The US Government is the main customer of Fincantieri Marinette Marine (FMM) and requires high quality, high performance goods and services provided by suppliers with proven experience. The company supports small and medium enterprises in selecting its suppliers, in particular those run by women, economically and socially disadvantaged individuals, veterans, and companies that are part of the Historically Underutilized Business Zone Program (HUB zones).

In 2020, 834 suppliers received a purchase order from FMG, almost all of which (98%) are situated in the United States.

The purchase process is defined through various procedures that describe all the steps that must be followed to issue a purchase order according to the needs of FMM.
Suppliers are selected according to various criteria, starting from their experience in the marine sector and their observance of US law in social and environmental areas. Other additional factors that are considered include: estimated cost, purchase frequency, size, position, shipowner's recommendations, recorded non-conformities, etc..

An orientation course is provided to suppliers performing services in shipyards before the works begin, to verify that they meet certain insurance requirements. They also carry out shipyard safety training courses and are familiarized with the correct contact representatives within the company, in order to ensure an appropriate communication flow.
SUPPLIERS BY PRODUCT CATEGORY
VALUE OF ORDERS ISSUED BY CATEGORY IN THOUSANDS OF EUROS

PRODUCT CATEGORY

2019

2020

Turnkey

102,146

32,150

Supply

188,285

173,619

Contracts

75,609

46,863

Services

12,566

15,310

Investments

1,329

23,071

Engineering

20,838

86,005

Total

400,773

377,017
SUPPLIERS BY GEOGRAPHICAL AREA
VALUE OF ORDERS ISSUED BY COUNTRY/AREA IN THOUSANDS OF EUROS

COUNTRY/GEOGRAPHICAL AREA

2019

2020

Italy

0

0

Rest of Europe

12,381

4,106

North America

388,233

372,911

Asia

159

0

Oceania

0

0

South America

0

0

Africa

0

0

Total

400,773

377,017
The data refer to Fincantieri Marine Group.
VARD Group supply chain
Approximately 54% of the VARD group's value of orders issued concern Norwegian suppliers and 43% are located in other European countries. The remaining 3% is distributed between South America and Asia.
The selection criteria used are based on the maker list, but also on supply history and previous purchasing experiences.

Purchasing management is entrusted to the Alesund headquarters, while purchase plans are managed by the procurement teams of the various sites.
During the supplier selection process, preferential requirements include possession of certification concerning health, safety, anti-corruption and the environment.

Audit activities are carried out periodically through the yard health, safety, environment and quality (HSEQ) managers accompanied by the central purchasing function to check compliance with the contractual requirements agreed for the jobs. In 2020, 13 audits were carried out on suppliers, 8 of which based on environmental and social criteria carried out by VARD Vung Tau, society which holds SA 8000 certification; none received a negative evaluation.
SUPPLIERS BY PRODUCT CATEGORY
VALUE OF ORDERS ISSUED BY CATEGORY IN THOUSANDS OF EUROS

PRODUCT CATEGORY

2019

2020

Turnkey

570,944

410,410

Supply

389,744

285,174

Contracts

145,730

75,726

Services

147,744

97,839

Investments

7,532

14,296

Engineering

66,730

35,901

Total

1,328,424*

919,346**
SUPPLIERS BY GEOGRAPHICAL AREA
VALUE OF ORDERS ISSUED BY COUNTRY/AREA IN THOUSANDS OF EUROS

COUNTRY/GEOGRAPHICAL AREA

2019

2020

Norway

794,031

494,554

Rest of Europe

430,664

392,995

North America

6,277

728

Asia

88,197

28,174

Oceania

292

41

South America

8,963

2,853

Africa

0

0

Total

1,328,424*

919,346 **
* VARD group Intercompany Value 2019: estimated in approx. 518,900 thousands of euros.
**VARD group Intercompany Value 2020: estimated in approx. euro 384,275 thousand.
The data refer to the VARD group.