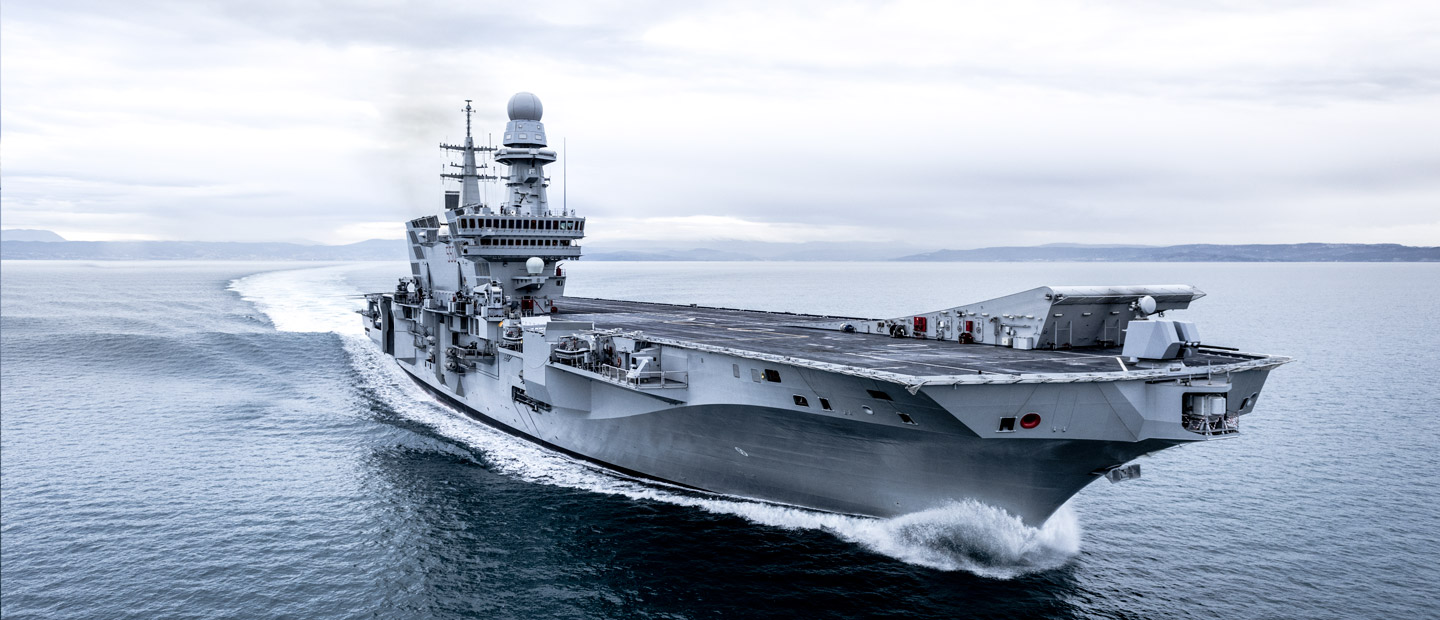 Cavour Class
Aircraft Carriers
The ship has highly flexible operational capabilities, which enable her to carry out the functions of an aircraft carrier, as well as transport wheeled and tracked vehicles.
The vessel is equipped with a flight deck designed for operating with helicopters and V/ STOL aircraft. There is also a hangar/garage of 2,500m².
The ship's conventional non-nuclear plant propulsion system is the most powerful (88 MW) built to date, and her controllable pitch propellers are at the cutting edge of naval technology.
| | |
| --- | --- |
| Commissioning | Italian Navy |
| Cavour | 2008 |
Length between perpendiculars
H.T. Steel hull and Superstructures
Stability and buoyancy according to Italian Navy std.
Shock Protection of vital equipment
Low Underwater Radiated Noise Signature Control
Aviation facilities for fixed-wing aircraft AV-8B Harrier and JSF and helicopters EH101, AB212, NH 90, SH3D
AVIO/GE LM2500 Gas Turbines (COGAG)
Fincantieri Feathering CP propellers
Max sustained speed (85 % MCR)
Amphibious Command Task Force
6 Generating sets Wärtsilä CW 12V200
6 Reverse osmosis desalinators (70 t/day each)
2 Couples active-fin stabilizers
2 Shaft generators 2200 kW each
Primary power 660V - 50Hz through passive
2 Aircraft lifts (forward and stb. aft)
HVAC in all living and operational spaces
2 Radar for Aero Mobile Control
1 3D Multifunctional Radar
1 Command Management System including SATCOM and Tactical Data Links
1 3D Long Range Surveillance Radar
1 Integrated Int/Ext Communication System
2 Main Caliber Guns - 76 mm SR
3 Secondary Caliber Guns - 25 mm
1 EW System (RESM/CESM, RECM)
1 Sylver SAM Vertical Launching System (2 x 2 x 8)
1 Anti Torpedo Defence System (SLAT)
1 Decoy Launching System (2 Launchers)
2 Radar/EO Fire Control System
1 Tactical Air Navigation System (TACAN)