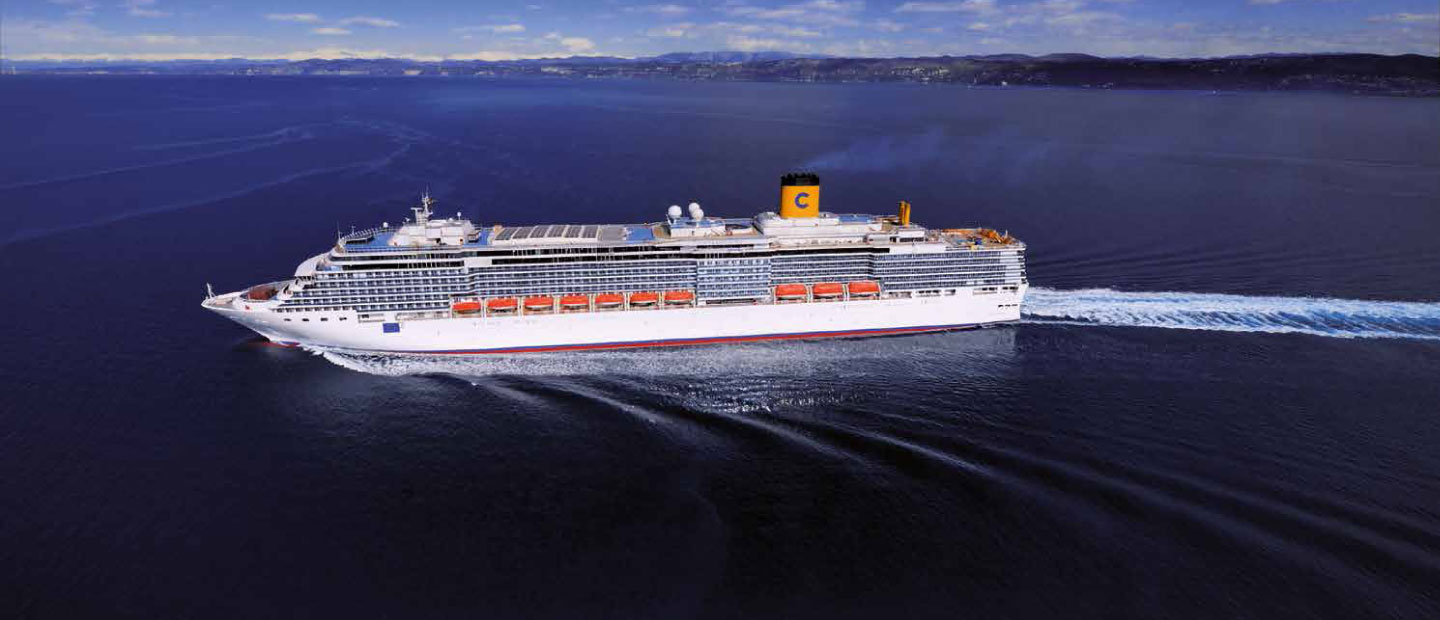 Costa Deliziosa
Costa Crociere
A new gem joins the Costa fleet
Built by Fincantieri in 2009 at the Marghera yard, Costa Deliziosa was the first cruise ship to be launched in an Arab country. A beacon for Italian-made excellence around the world, she combines high-tech entertainment with a special concern for the environment.
3,760
people max capacity
A holiday experience made of pure pleasure
Everything about this ship comes together to create a holiday experience of pure pleasure. Starting with the design and premier materials, with various types of marble and granite, special "polished plaster" decorative effects and "parchment-effect" lamina, fine zebrawood and wenge, Murano glass, modern polished and satin-finish steels, and 970 lights by La Murrina.
The beauty of the great hall, an iconic place on Costa ships, is heightened by sublime artworks from Arnaldo Pomodoro's "Sphere" to the large painting "Physical delight and intellectual delight" by celebrated contemporary Italian painter Mario Donizetti.
Costa Deliziosa also leads the way when it comes to safeguarding the environment, which has always been a hallmark of Costa Cruises' commitment to innovation and excellence. She was the first ship in Italy, and one of the first in the world, to be built for "cold ironing", A system that enables moored ships to draw power from the port, without having to keep their engines on to run the on-board generators. This approach helps to further reduce the ship's environmental impact even when berthed.
Costa Deliziosa has additional features to reduce fuel consumption and CO2 emissions and to cut energy and water waste.
The ship offers an exceptional array of ways to relax, have fun and be entertained, all using the very latest technology. There is a 4D cinema, a roller skating rink, a golf simulator with outdoor putting green, the 3,500-m² Samsara Spa wellness center with Kinesis room by Technogym, and a Gran Prix simulator recreating a real racing-car experience on the best circuits – the same one that professional F1 drivers use in training.
"This splendid ship is the third unit that Fincantieri has delivered to Costa Cruises in nine months, a significant achievement that is unprecedented in shipbuilding history. Our two companies have forged an important partnership to create ships that proudly fly the flag every day for Italian-made products around the world."
Giuseppe Bono, Fincantieri CEO
4 x 12,000 + 2 x 8,000 kW
Electrical propulsion motors (POD) ABB
Total installed el. power