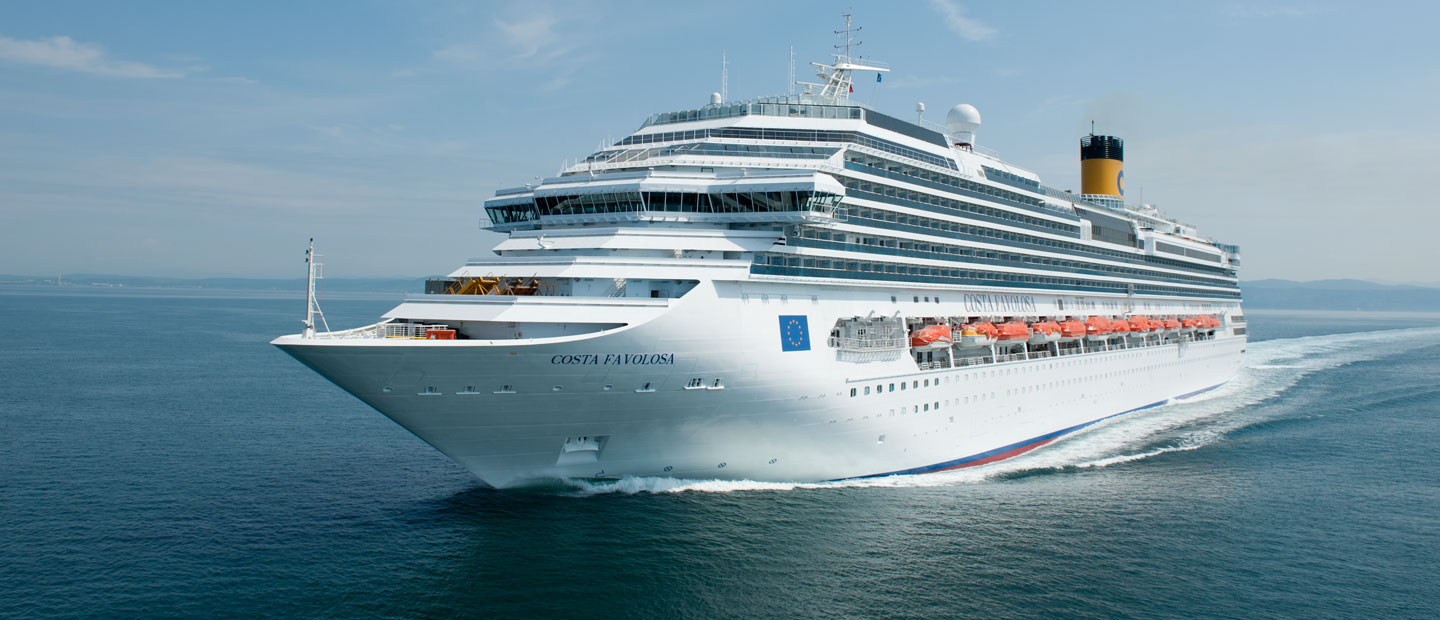 Costa Favolosa
Costa Crociere
Ready to sail the seven seas
Built by Fincantieri in Marghera and delivered in 2011, Costa Favolosa is an international emblem of Italian pride. It took around 3,000 employees and another 7,000 in allied industries to build her; most of the 500 participating companies are Italian.
"Costa Favolosa, the largest ship yet built for Costa Cruises, is tangible proof of the progress made and the results achieved thus far by these two great Italian companies, which contribute together to promoting a positive image of Italian products around the world."
Giuseppe Bono, Fincantieri CEO
4,890
people max capacity
A high-tech "modern fairytale castle"
This cruise ship has been devised to surprise – in every way. With her broad open spaces, cutting-edge technology, impeccable service, and modern marvels of art and design, she provides the perfect setting for a fairytale holiday. As fabulous as her name suggests, Costa Favolosa offers the dream of a cruise with all the enchantment of a "contemporary castle", a perfect combination of a magical atmosphere and the most advanced entertainment technology.
The ship's innovations include 6 new suites with a veranda and Jacuzzi. Cruisers will also love exploring the new entertainment area dedicated to the wonders of virtual reality, with the 4D cinema and PlayStation World. And there are plenty of new features for children, with a new open-air water park with water games and the pirate galley.
Costa's best new on-board amenities are all here. Starting with the Samsara Spa, one of the largest wellness areas ever built on a ship, spanning 6,000 m2 with dedicated cabins and a restaurant. The central pool area on two decks has a special retractable glass roof for passengers to enjoy a spot of relaxation in all seasons and an 18-m2 giant screen with music and entertainment.
For those who love a white-knuckle ride, a Grand Prix racing simulator 60 meters above the water faithfully reproduces the experience of driving a real F1 single-seater on the top international circuits. And the latest-generation golf simulator is a must for golf fans.
The fully refurbished pool area at the stern is especially spacious. This 1,000-m2 zone is all about fun and relaxation, with 160 loungers, an invigorating waterfall, and Jacuzzis "suspended" between the sea and the sky. The ship's gym has all the latest Technogym equipment, with internet access, TV and iPods.
The on-board duty-free shops and the Costa Collection boutique offer an exclusive collection of souvenirs specially selected for Costa Cruises by internationally renowned designer Emilio Robba.
There any plenty of culinary experiences to suit all tastes, from the à la carte restaurant to its wellness counterpart, and from the self-service buffet with specialties from the various ports of call to the quality Mediterranean cuisine served at the 2 main restaurants.
And if you like a cultural flavor to your holiday, look no further than the Costa Favolosa signature art collection, a voyage among over 6,000 original works and reproductions embellishing the ship and her cabins.
Costa Favolosa is also highly advanced when it comes to her environmental credentials. She can use "cold ironing", the system that allows docked ships to draw power from the shore, without having to keep their engines turning to run the on-board generators.
2 Electric Motors tot. Power
Total installed el. power