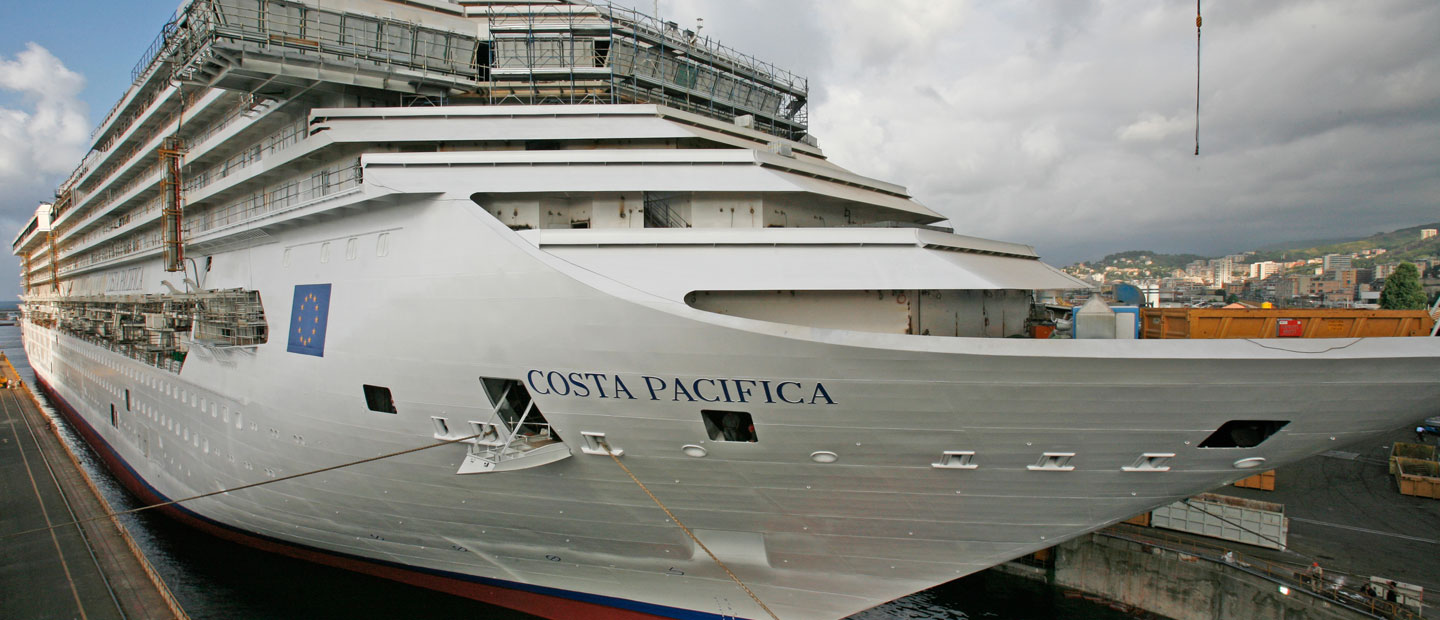 Costa Pacifica
Costa Crociere
Costa Pacifica was delivered by Fincantieri at the Genoa Sestri Ponente shipyard in 2009. The twin of Costa Serena, she is the first "ship of music", the flagship of Italian-made excellence in the world. She was designed, developed, engineered and built by 3,000 workers, from Fincantieri staff and personnel from around 500 companies in allied industries, in a total investment of around 500 million euros.
"Costa Pacifica further consolidates our partnership with Costa Cruises. For the last nine years, our companies have been working on a fleet expansion program worth 3.5 billion euros, the most significant investment ever made by a European operator."
Giuseppe Bono, Fincantieri CEO
4,890
people max capacity
An exclusive "high-fidelity" cruise
Designed by architect and interior designer Joseph Farcus, Costa Pacifica is Costa Cruises' "Greatest Hits" – not just because she embodies the best features of the other ships in the fleet but also, and above all, because her inspiring and unifying theme is music.
For the first time, here is a cruise ship offering a complete, unique and one-off musical experience. Music is not only the inspiration behind the interior design and the choice of artworks – with 308 original pieces and 5,929 reproductions embellishing this flagship – but it can also be heard, read about and experienced all over the ship. A new 29-track soundtrack has been produced exclusively for Costa Cruises by singer and multi-instrumentalist Mauro Pagani, including 7 originals and 22 new arrangements of all-time classics. Each environment features the piece that inspires its name.
The Costa flagship was also the first ship in the world to feature a real recording studio with the most sophisticated equipment. Guests can sing their favorite song – from a choice of around 400 Italian and international smash hits – against a backing track and record it as a souvenir CD to take away. Once of the most important areas on board that reflects the ship's main theme is the theatre. This high-fidelity auditorium offers an absolutely pure listening experience immersed in a unique atmosphere.
Rounding off the roster of Costa Pacifica's attractions are a genuine Grand Prix driving simulator, a central pool area on two decks with retractable glass roof and 18-m² giant screen, PlayStation World with its exclusive PlayStation 3 collection, and the Samsara Spa. This wellness area spanning 6,000+ m² includes a wellness center, a dedicated restaurant, and comfy cabins with direct access to the spa.
Main Diesel engines Wärtsilä
Electrical propulsion motors Alstom
Total installed el. power